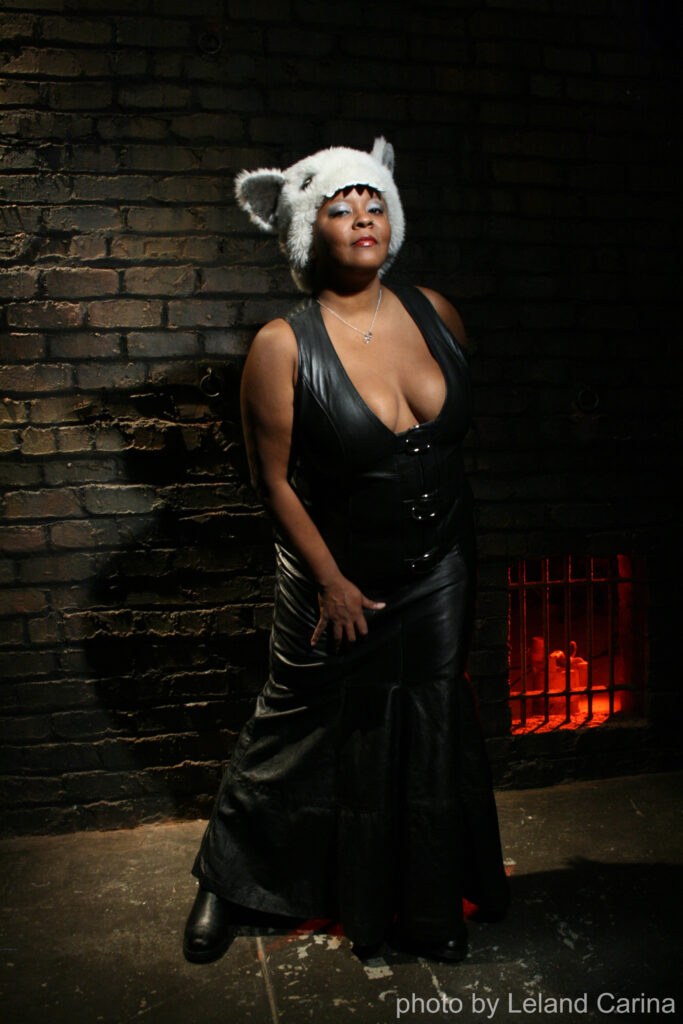 Perverted Negress, Executive Pervert, and Delicate, Trembling Flower of Submission
Mollena Williams, 'Delicate, Trembling Flower of Submission" © is a NYC born and raised writer, actress, BDSM Educator and Executive Pervert. She is extremely honored, humbled and proud to serve as International Ms Leather 2010. She is also thrilled to have been named Ms. San Francisco Leather 2009after that contest's decade long slumber. Active in BDSM and the Leather Community since 1996, she speaks at Leather, BDSM and Kink events across the US, Europe and Canada on many Leather and BDSM focused topics.
IMsL 2010 is truly an international title year with visits to the Pride Festival in Stockholm, Sweden, where she became the first woman invited to march with the Scandinavian Leathermen's Association! She's also done her thing in Dublin, Ireland, Berlin, Germany, the UK, Amsterdam, visited Netherlands for Leather Pride, as well as teaching and performing in Vancouver, Canada. Track where she's been and where she's going on her Travel Calendar.
A founding member of Crowded Fire Theater Company, Mo blogs on mollena.com and is the author of the 'Toybag Guide: Taboo Play.' Her essay entitled 'BDSM and Race Play' appears in Rachel Kramer Bussel's 'Best Sex Writing 2010' and she has a very challenging essay on race play in the anthology "Spirit of Desire: Personal Journeys in Sacred Kink," edited by Lee Harrington, so do check 'em out! She also tracks her adventures as International Ms Leather 2010 at http://IMsL2010.com and Twitters incessantly over on http://twitter.com/mollena. Her work's been published by the Society Of Janus Newsletter, The Eulenspiegel Society's magazine, Prometheus, as well as the online magazine at ALT.COM and Bondage.com. She was interviewed for The Bottoming Book, ColorLines Magazine, Bitch Magazine, , SexIs Magazine, The Huffington Post, Racialicious and the Dutch magazine Zij aan Zij to name a few!
She's recently appeared live with Abiola Abrams: Love, Sex & Dasting, The Playboy Advisor, Sexploration with Monika, Boards.IE, Dr Suzy and The Reverend Mel Show She is featured in the award winning documentary 'Vice & Consent'. You can also see her all tied up in the instructional video, 'Jay Wiseman Teaches Rope Bondage' Her blog, The Perverted Negress, has been a featured blog on Fleshbot (not Once but TWICE!) as well as the pick of the week for The Sugasm. And boy howdy, the venerated Jane's Guide thinks The Perverted Negress' Blog is pretty rad!
Her background includes a lifetime of training and involvement in the performing arts, which include spoken word, classical theater, dance, performance art, and all manner of stagecraft. Her first solo show,69Stories: One Pervert's Tale has been re-revived and is ready to tour and she will be performing it in Vancouver in November 2010. You can see an excerpt from it here ('Kiss My Boots' part One, and Part Two)
Specialties
A list of my current classes can be found here. I am also an experienced emcee and performer, and am available for BDSM, Leather and Kink event hosting and facilitation. From a one-time class to a weekend intensive,m I'm here to serve!