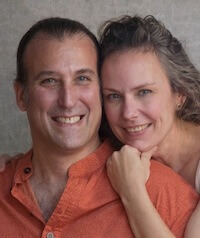 Mark A. Michaels & Patricia Johnson
Mark A. Michaels was born and raised in New York City. He graduated from the University of Michigan with honors and distinction. He holds a J.D. from NYU and Masters degrees in American Studies from NYU and Yale. He has written for scholarly and legal publications and for the stage and has had his work produced off-Broadway. In the late 1980s, he served as literary manager at New York City's Roundabout Theatre Company and then was staff attorney for a Native American legal organization. He took his first Tantra class in 1997, gave his first lecture on the subject two years later and teamed up with Patricia Johnson shortly thereafter.
Patricia Johnson was born in Michigan and grew up in Missouri. She spent many years as a professional operatic soprano, performing leading roles at some of the world's premiere venues, including an appearance on PBS's Live from Lincoln Center, before retiring in 2010. In 1999, a longstanding interest in Tantra inspired her to attend a lecture by Mark Michaels, now her husband and collaborator. Since then, she and Michaels have taught and lectured throughout the U.S., in Canada, the Caribbean, Europe, and Australia. Their books: Great Sex Made Simple, Tantra for Erotic Empowerment, and The Essence of Tantric Sexuality have won awards and received critical acclaim.
Specialties
Tantra, relationship skills and sexuality
Experience
Mark A. Michaels and Patricia Johnson are a devoted married couple. They have been creative collaborators – teaching and writing about sexuality and Tantra together – since 1999. Michaels and Johnson are the authors of Partners in Passion (Cleis 2014), Great Sex Made Simple, Tantra for Erotic Empowerment, and The Essence of Tantric Sexuality. Their books have garnered numerous awards: Independent Publishing (IPPY), ForeWord Reviews, and USA Book News Best Books, among others. They are also the creators of the meditation CD set Ananda Nidra: Blissful Sleep. To support the pleasure-positive community in New York, they co-founded Pleasure Salon in 2007.