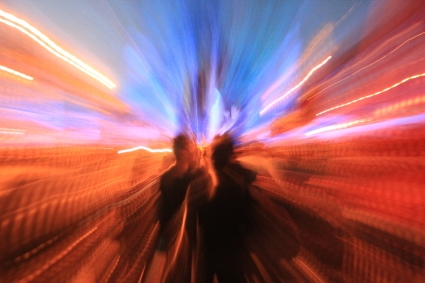 It was a beautiful clear night in Washington, and Graydancer and Koe Creation were all set to have a great little rope-and-cigar-play scene. He tied her in a lovely body harness and then lit a cigar, beginning their hot and sexy time with a puff of smoke across her bare skin.
She shivered and gasped, but not with arousal. This was something different; a kind of cathartic release. Gray realized that this scene was not so much about naked bodies and passionate sex and more about creating a safe space for Koe to let go of a huge burden of tension that she'd been carrying.
The scene held all the same actions and techniques of cigar play, but for years after they would both wonder at the way the ash, flame, and rope had combined with words and emotions to create a ritual as meaningful as it was healing. In fact, Gray often admitted later, it kind of freaked him out. "Sometimes you go for woo," he said, "and sometimes the woo is thrust upon you."
"Woo" is usually the affectionate term for the way spirituality can work into kinky play both intentionally and (as happened with Gray and Koe) accidentally. In their case they needed to "get unstuck" as Amy Jo Goddard would put it. She teaches techniques related to yoga and other meditative practices to "open up chakras". It's part of breaking down the idea that mind and body are separate, and about how you can have a better sex life if you also take the time to balance your emotional and psychological state.
Some people turn their noses up at the idea of "woo", convinced that kink should just be about getting closer to getting off. There's nothing wrong with that – there's nothing to say that "spiritual kink" is any better or worse than "just kink". There are people such as Julian Wolf who started out as skeptics but later found that they liked it better when they added spirit and meaning to their kinky relationships. This doesn't mean that you have any less domination, submission, or protocols; it simply means that through things like meditation they bring a different "energy" to the experience.
"Energy" is another of those words that skeptics argue have very little meaning outside of "magical thinking", especially in terms of kink. One way to understand the word without thinking of it as being spiritual is to understand that "energy" could mean "focused attention." There are well-documented neurochemical changes that take place when a person enters a state of either focusing or being focused upon. Part of the series on the "Zen Submissive" featuring Madison Young and Juliette Marsh is about physical and mental exercises that help a submissive focus on the immediate experience. This can not only help with pain processing but also enable someone to journey even deeper into "submissive headspace."
It applies to big-letter types as well. Dakadom also encourages yoga and meditation for dominant players who want to fully embody their chosen role. He draws upon the Jungian model of the shadow-self when he talks about various dominant roles such as king, tyrant, and weakling. The concepts can get very intellectual as they are discussed, but in practice they are all about the hard cocks, wet pussies, and mind-shattering orgasms that is what initially draws people to kink.
Those intense experiences are actually not very far from the "ordeal path" that many cultures take to achieve their particular goal of enlightenment. Wintersong Tashlin explains a lot of practical tips for needle play in his series for Kink Academy, but right along with it he explains that many enjoy having the steel under their skin for the feeling of spiritual connection it gives them. That's backed up when Mistress Cleo Dubois has her bottom give his perspective on the experience of an extensive play-piercing scene. He describes it as a physical activity that drew him into a spiritual state of mind.
There are legitimate scientific studies trying to understand the connection between kink and these spiritual states of mind. Neuropsychologists have used kinksters as part of their research and it's possible that terms such as "energy" and "woo" will eventually have enough empirical evidence that even the most skeptical will be satisfied. In the meantime, it's enough for those who want the woo that they can enjoy all the energetic play they want right alongside those who enjoy the purely physical pleasures of being kinky.
Save