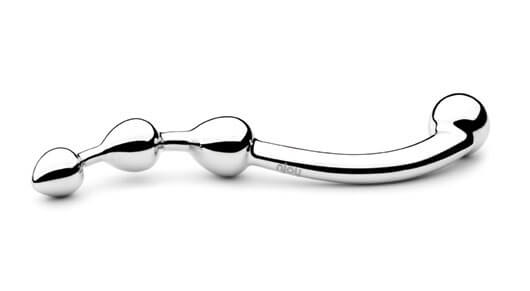 Happy New Year!
2015 is a year for change, expansion, and growth. Cleaning out the old gear and sex toys to make room for shiny new ones. Trying new things that get us hot and bothered and feeling excited and recharged.
We want to help you start the year off shiny and new with a chance to win a gorgeous stainless steel njoy Fun Wand.
Login with the widget below and enter to win with just a comment or a quick social share.
Do you have a #kinkgoal for 2015? Sharing your goal for the year ahead is just one way you can enter to win this highly coveted sex toy.
Learn more about the njoy Fun Wand and what it can do for you:
[youtube https://www.youtube.com/watch?v=2b5_GR5tPLA]
A "most versatile design, the njoy Fun Wand provides a plethora of sensual possibilities. Ideal alone or with a partner, the Fun Wand is great fun for combined oral and G-spot stimulation, or flip the toy (and your partner!) over and use the graduated bulbs to give them the anal treat you know they deserve…"
You can find a variety of educational videos for all types of personal improvement here on Kink Academy too.
What new skill do you want to master in the year ahead?
Here's a few to get you started!
Boundary Smackdown: Pushing the Edge by Mollena
Using Protocol for Personal Improvement by Sinclair Sexsmith
Household Management: Roles, Goals, Actions, Plans and Expectations by Alex Bettencourt
Developing Your Fantasies by Dr. Ruthie
Bind Without Twine: Intentions by Stefanos and Shay
Winner will be announced January 31, 2015
Winner must reside in the US
[comment-guestbook]