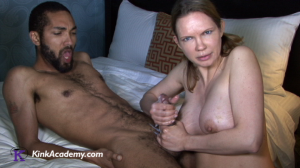 At first the idea of stopping orgasms might seem a little strange: why would anyone want to not cum? That's where the kink comes in, though: if an orgasm is a wild and uncontrolled feeling, how exhilarating is the power trip to stop, start, or even just delay it? According to Jillian from the "Locked in Steel" company, orgasm control can be "to exchange power, to be in bondage, to show fidelity, to increase devotion," among other reasons.
One of the most common versions of orgasm control is for males through the use of chastity devices. One of the simplest ways to do that is the idea of "cages". A cock cage is usually made of plastic or metal and fastens over the penis and around the base of the cock and balls. They are made with holes or openings for peeing, but are too small for a cock to grow erect – and often too dense for the cock to be touched at all. You can see how one version, the CB-6000, works in the video interview Princess Kali did with the inventor.
It's entirely possible for a man to put the chastity device on his own cock, but as with many kinks it can be even more fun when someone else is doing the controlling. Called a "key holder", Eve Minax explains that this is a way to get the needs of both partners met – one who gets off on control, and one who gets off on controlling. This is where the difference is between "orgasm denial" and "orgasm control." The power the key holder has is not only the denial of pleasure – but also getting to reward the person in chastity at the same time.
There are also devices created for female anatomy, but it is more difficult to actually "control" the orgasm with them because they often aren't dependent on some physical change like getting erect. In fact, putting on a "chastity belt" might just be providing an even easier surface for one to "rub one out." It prevents insertion, to some extent, but studies have shown that few women cum from penetration alone.
If you're wanting to explore orgasm control with the female body, it becomes much more a mental process.
Part of this is the practice of "edging", or masturbating right up to the edge of orgasm without cumming. "It can completely energize and focus the libido for both partners," says Sinclair Sexsmith in the video about edging. The motivations for edging can be purely physical – the orgasm you have after coming to the "edge" several times is often amazing – but more often it's used as a form of power exchange. For example, Resa (formerly Ava) Amnesia has talked about many forms of long-distance power exchange. One of the "scenes" that she had was being ordered to edge, each day, a number of times equal to the "Fibonacci Sequence." That meant once the first day, twice the second day, three the third, five the fourth, eight the fifth, twelve times the sixth, and on the seventh day twenty times.
This went on until she reached the number that her dominant partner had set for her "And that," she said, "is why I know what it feels like to edge thirty-four times in a row. Thank heaven I had the last two days off of school or I'd never have squeezed them all in." She adds, for the benefit of anyone who would like to try it out, "I'm still really into orgasm control, but now I do it from the top, too. I like the way that in engenders, both in me and my bottoms, a sense of hyper focus. I think being repeatedly denied orgasm over any length of time makes the eventual reward sweeter."
Like any kind of sexuality, orgasm control is not one-size-fits all. Some people have a very easy time reaching orgasm – maybe even too easy – and being denied helps them achieve a level of control and delay that makes the rest of the spectrum of sexual activity more vibrant. Rain DeGrey demonstrates this in her explicit "Sadistic Handjob" video, showing how she can bring even more pleasure to her partner by stimulating him but holding off on letting him cum. For others orgasm control becomes something like a hypnotic trigger, where a key word or even touch can make them "cum on command." Another form of orgasm control is simply the ability to tell a partner "no" when they are about to cum, especially when used in conjunction with some "tease and denial" play. That's the process of arousing them, denying them release, and then repeating it over and over. Sometimes that ends with an orgasm – but there's also a kink known as "ruining" that is basically about interrupting orgasms as they have them. That makes the denial itself an even more desperate and hopefully hot resolution.
If the idea of orgasm control turns you on, it isn't hard to get started. As the moment of climax approaches, anything that delays or triggers it is a form of control. Take it as far as you and your partner desire, and you may fine that "Not yet…" are two of the hottest words you could ever hear.
Save