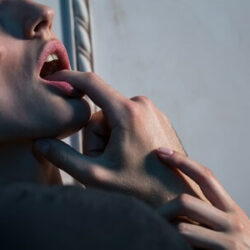 Blowjobs are an art form, and just like visual art, there are many different blowjob styles. One of the most popular types of blowjobs that you'll see, especially in mainstream pornography, is the sloppy blowjob.
A sloppy blowjob is defined by a lot of saliva, which typically involves spitting or drooling. It doesn't necessarily have to involve deep-throating, gagging, or face-fucking, but some people find the intersection of these techniques to be extremely arousing, and they can be combined to create a powerful display of control and force during a scene.
Why give a sloppy blowjob? Because it can be a totally hot experience! Initially a lot of people who are new to sloppy blowjobs may be hesitant about them, because some people were raised being told that spitting and drooling aren't polite. Sloppy blowjobs aren't about being polite – they're about being messy, juicy, and uninhibited! If your partner wants a sloppy blowjob, they definitely aren't going to judge you for spitting. They'll probably think it's extremely hot.
To give the best sloppy blowjob, make sure you know your blowjob basics, especially if your partner is uncircumsized and you're new blowjobs for intact cocks. If you're new to dealing with uncircumcised partners in general, you also absolutely need to know what not to do to an uncircumsized penis before your oral sex gets wet and wild. In general, the easiest way to make your blowjob sloppy is to use spitting. You can spit directly on the penis or on your hands, and both are equally valid ways to make your oral sex pleasantly slick.
Sloppy blowjobs don't require deep throating, but the saliva that you get from deep throating is thicker and more slippery, so deep throating is an option that can take your sloppy BJ to another level. M. Makael Newby has excellent advice to help you give the ultimate sloppy, deep-throat blowjob.
Gagging may not be everyone's cup of tea, but if you're into it, gagging will add another layer to your sloppy BJ experience. It can make your partner feel like they have the power to control your breathing and gag you, and the person with the penis may love how the feeling of your throat contracting makes them feel larger. Choking and gagging can be risky because they are a form of breath play, which is why it's a great idea to watch M. Makael's video on the topic to be sure you're aware of the techniques and risks involved.
Face-fucking can add an awesome power dynamic to your sloppy blowjob. If you want the feeling of surrendering control, face-fucking has the potential to take you there and make you feel like you're being used. Face-fucking does not require deep-throating or gagging to be a fun and effective part of your sloppy beej. Shay and Stefanos are featured in two videos about being the face-fucker and the face-fuckee, with valuable advice no matter which side of the cock you're on.
If you worry about keeping your blowjobs neat, quiet, and tidy, sloppy blowjobs are not how you're going to achieve that. But unless a sloppy blowjob is a total turn-off to you or your partner, it might be worth trying at least once! Sloppy blowjobs are about releasing your inhibitions and using your mouth to create a slippery, sensual, primal experience for your partner.
Sugarcunt is a queer, nonbinary kink enthusiast and sex educator with an army of fucktoys and a mission to overshare. You can read more of their work at http://www.sugarcuntwrites.com.