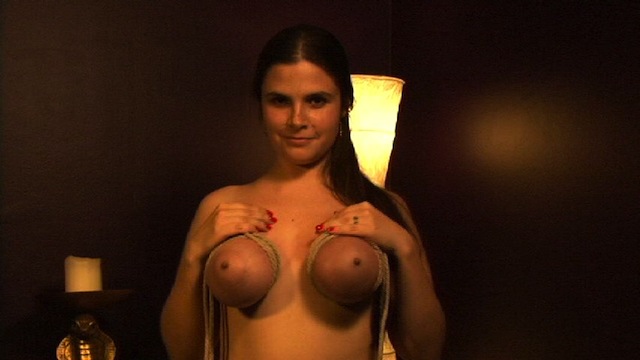 If you spank your own ass in the bedroom and no one is around to hear the smack, does it still sting?
The answer is hell yes! Because, as Forrest might put it, "kinky is as kinky does", and you don't need a partner to explore your own darker fantasies. Whether it's a brief separation from a regular partner or the simple fact that there's nobody currently in your life to share the joys of BDSM, being solo doesn't keep you from being all of the wonderful pervert you can be.
One of our newest Kink Academy educators, Bex Caputo, recently talked about this on their twitter feed. " I've been on kinky autopilot for a while, so I've decided that today marks the 1st of 30 days dedicated to seriously exploring all of the Big Introspective Kink Thoughts I've been having." He mentions that he doesn't have a partner right now, but that doesn't stop him from exploring ideas around chastity, service, and Leather.
As it happens, those are three of our most popular topics here on Kink Academy! If you feel similarly drawn to an individualized path of kink, here are some suggestions to start you on the way:
Chastity and Orgasm Schedules
"Chastity" can mean a lot of things. For some, it is absolutely no touching of the genitals, sometimes even enforced by a locked cage or chastity belt. For others, it can mean all the sex you want, but no orgasm. You can choose just how much you want to "test" yourself with erotic images, or use it as a sensual exploration of the rest of your body as an erogenous zone.
Like most kinks, you can get as imaginative as you want – for example, not allowing yourself to masturbate except for, say, five minutes mid-morning on Tuesday. If you can manage to find the privacy and have an orgasm in that time, great! If not, too bad, because your orgasm schedule doesn't have another window until next Tuesday…
You can also work in the idea of "edging", which is pushing yourself to the edge of orgasm and then stopping. One person had a schedule of edging that was based on the Fibonacci sequence – so edging one time, the next day two, the next three, the next five, the next eight. Then, at about number 89, they switched to trying to have that many orgasms and counted back down…
Did they succeed? That's not really the point; the point is that your kink is in your own hands and your own mind.
Service & Protocol
There are a lot of flavors of protocol, ranging from things like Leather rituals to high tea. As a solo kinkster there tends to be a focus on things that one can do as a bottom, learning skills like boot blacking, submissive positions, and otherwise brushing up your "service resumé" as Mollena Williams.
One of the things to be careful of is the fine line between practicing solo service and non-consensually projecting your own fantasies on someone else. For example, you wouldn't practice your submissive postures the moment someone dominant enters a room unless you have pre-negotiated it. On the other hand, there are often events – or even munches – that you can practice service at simply by being a source of information, handing out materials, or more. There's nothing wrong with being polite, of course, but if you're doing it with a service mindset, it's a good idea to a least give people a heads-up.
What about tops, though? How can a top practice solo protocol? That's only a question if you don't remember that there are always two sides to a service, and the way you receive service is an art just as much as providing it. Improving and studying the ways that good tops show appreciation is always a good idea, and remember that knowledge is power – so learning how to perform the same skills you'd desire from a partner will give you even more ability to enjoy their service.
Solo Bondage & Impact Play
When it comes to the more physical aspects of kink it can get harder to safely practice. Solo bondage, for example, is a form of edge play if it's done all alone. People have suffered serious injury from getting themselves into situations they couldn't get out of when there was no one else around.
Happily, though, self-bondage and even suspension is a common activity in many kink communities, and there are even self-suspension Open Space events and other "jams" run by enthusiasts such as our own awesome Shay. If you aren't able to get to one of those, though, make sure you take precautions such as having cutting implements on your body before you go up, and preferably a phone in easy reach in case you have to call someone.
And what if you are choosing to spank yourself in your own bedroom and no one is around to hear the smack? The answer is that it does sting, but you may find that a simple hand spanking isn't quite the right angle for an extended session. Likewise floggers and canes can also be difficult, depending on which part of the body you're trying to stimulate.
If you're looking for a fun way to turn your own ass red, a nice paddle is likely to be your friend. You can also get creative with things like rubber bands ("broccoli bands" are amazingly useful), exercise bands, shoes, or even a good old fashioned ruler or wooden spoon for some self-inflicted domestic discipline.
Solo Kink is Still Kink
However you choose to explore it, remember that a scene with yourself is still a scene – so practice your negotiation skills to plan out what you're going to do, and remember to give yourself time and attention for aftercare when it's done. A journal is a great way to keep a record of your personal journey, and remember that you are just as kinky alone as anyone. These are just a few ideas for a solo exploration into the darker side of desire – your own path will be your own, and there's no better time to start than right now.