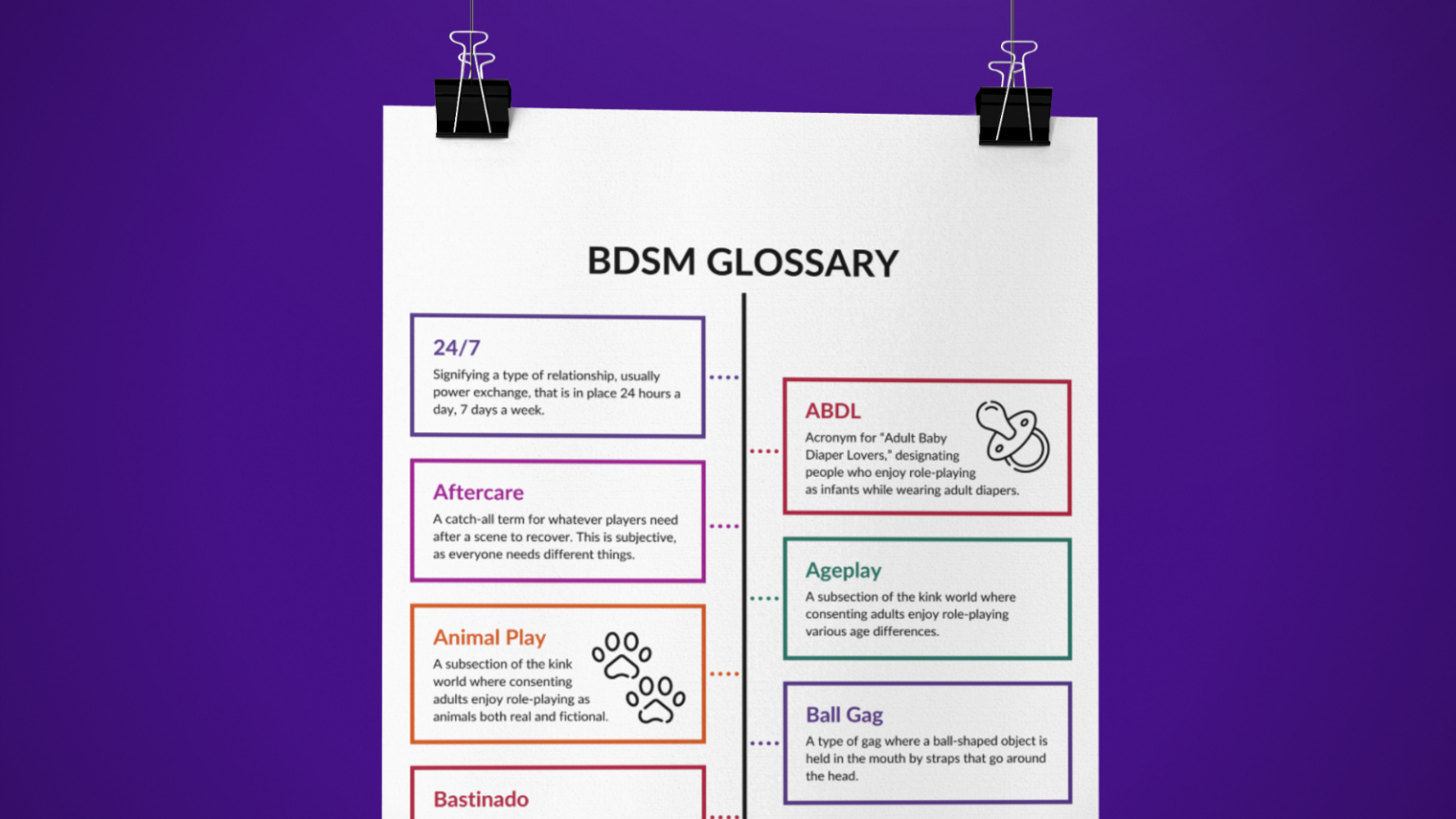 24/7 – signifying a type of relationship, usually power-exchange, that is in place 24 hours a day, seven days a week.
ABDL-Acronym for "Adult Baby Diaper Lovers" designating people who enjoy role-playing as infants while wearing adult diapers.
Aftercare– a catch-all term for whatever players need after a scene to recover. This is subjective, as everyone needs different things.
Ageplay – a subsection of the kink world where consenting adults enjoy role-playing various age differences.
Animal Play – a subsection of the kink world where consenting adults enjoy role-playing as animals both real and fictional.
Ball gag – A type of gag where a ball-shaped object is held in the mouth by straps that go around the head.
Bastinado – A method of impact play involving striking the soles of the feet, usually using a cane.
BDSM – Acronym meaning "Bondage, Discipline/Dominance, Sadism/Submission, Masochism".
Big (ageplay) – A consenting adult roleplaying in an ageplay scene who is considered an "older" person (usually roleplaying an adult figure).
Bondage – in kink, the use of materials or physical force to restrain the movement or agency of another consenting adult.
Bottom – the person consenting to have some kink activity done to them.
Bootblack – an enthusiast for leather care, including but not limited to boots, chaps, vests, etc. This enthusiasm may be fetishized solely to the leather but can also be expressed through relationships, usually service-oriented, with individuals or communities.
Branding – a consensual permanent or semi-permanent mark made on the body through chemicals (such as liquid nitrogen) or heat (such as a cautery pen).
Brat – A player who enjoys being contrarian and mischievous in their scene. Being a brat is independent of any other role such as top/bottom or Dom/sub
Chastity – A method of kink where adults consent to having their sexual agency limited in some way. Usually this involves "chastity devices" such as cock-cages, but may also be done simply through verbal instruction.
CBB – Acronym for Cock and Ball Bondage, which involves tying up these genitals for various reasons outside of sadomasochism.
CBT – Acronym for Cock and Ball Torture, activities (including but not limited to bondage) designed to cause intense sensations to these genitals.
Collar/Collared/Collaring – The ritual action of putting something around another person's neck for the purpose of indicating a particular relationship, such as submissive. Collars are worn intentionally for whatever length of time the players consent to the relationship, and range from simply fashion to statements of lifelong commitment.
Consent– In kink, the state of being willing to engage in activities with an understanding of the risks, responsibilities, and consequences involved.
Consensual Non-Consent– A type of play where the bottom consents to do some things they either don't want to do or pretend that they don't want to do if the top decides it. This type of play often includes "safe words" so that the players can indicate when they want to revoke consent for a particular action or the entire scene.
Corporal Punishment– In kink, any type of impact play that is designed to simulate or create a consequence for an infraction. This includes spanking, caning, paddling, whipping, flogging, and more.
Compersion-A word used particularly in polyamory to denote being authentically happy about your partner's happiness in a relationship with someone else.
CRASH – An acronym for an attitude about kinky activities being "Consensually Risk-Aware Shit Happens." Contrasting with RACK, PRICK, and SSC.
Cross Dressing-The kink of wearing clothes of some other gender than the one you usually present.
Cruise (flirting)– From the leather community, "cruising" is actively looking to find a partner for some activity (often at parties, bars, or other events).
Cuckold/ing – The particular kink of one person knowing about or watching their partner have sex with another person, often role-played as being against the will of the one watching (the cuckold).
DDLG – Acronym indicating a "Daddy Dom, Little Girl" relationship in which consenting adults choose to take on the specific roles. Often characterized by the "Daddy" providing material and/or emotional care and support for the "Girl", who is usually the submissive partner in the relationship.
DM – Acronym for Dungeon Monitor, a person designated within an event space to help create a safe and supportive environment for the people playing there, often through observance of the space rules as well as experience in helping with potential issues during play if asked.
Dom/Dominant/Domme – The person in a power exchange relationship who decides what will happen.
D-type – any person with dominant qualities.
Dollification – A kink where clothing, makeup, accessories, and mental stimulation is used to allow a consenting adult to role-play their idea of a "doll" (sometimes active, sometimes passive).
Drop – The state after a scene, play party, or convention where the body has been depleted of things like water, endorphins, adrenaline, serotonin, or simply rest. Often characterized by fatigue, depression, self-doubt, and other negative emotions. "Drop" is countered by after-care, whether personal or from a partner. AKA "Sub drop" "Top Drop" or "Con Drop."
D/s – Acronym for dominance and submission
Dungeon – In kink, an area designated for BDSM play, often equipped with furniture designed to facilitate impact play, bondage, and other activities.
Edgeplay – A subjective term used by kinksters to talk about play that has a higher risk profile than their usual play. This can be physically, mentally, or both, and usually involves further discussion on how to mitigate the risks and handle the potential outcomes of this kind of play.
Edging– Often used as part of chastity play, this refers to when someone is brought very close to having an orgasm without actually having one, either through masturbation or outside stimulation.
Electro Play – Any kind of play that involves the use of electrodes for direct stimulation of the body.
Fetish – The technical meaning of this is any non-sexual thing that a person requires in order to achieve sexual climax. In common parlance it simply means something that brings a particular form of enjoyment, whether sexual or not.
FemDom/FemmeDomme – A femme-presenting dominant person.
Figging – Using raw ginger root, usually carved into an insertable shape, to stimulate the genitals (usually the anus and rectum, but also used for urethras, clitoral hoods, and vulvas/vaginas).
Fire play – Any kind of kinky activity involving the proximity or direct application of flames to the body. Responsible fire play requires in-person training and uses many safety precautions and specific forms of flame and instruments to ensure that no one gets permanently injured, but this is generally considered one of the more dangerous forms of play.
Fisting – The act of inserting an entire hand into a vagina or rectum for sexual pleasure.
Flogger – An impact play implement usually consisting of a handle with several flexible "falls" (made of various materials, but usually leather) attached. The handle is swung by the top so that the falls hit with some degree of force on the bottom's body to produce a wide range of sensations.
Florentine – A particular style of impact play involving two implements swung in a figure-eight pattern to produce rapid strikes on the body.
Furry – A person who enjoys role-playing (sexually or otherwise) anthropomorphized animals as part of their play. Their "fursona" may be entirely virtual (such as online) or involve various costumes or props (such as kitten ears or even full-body suits)
Gender Fluid – describing a person who may move between more than one gender (not limited to male or female)
Genderqueer – any gender that is different than the socially constructed "norms" associated with a person's biological sex.
Genitorture – The act of intensely stimulating the genitals using various implements or forms of play that could be described as "painful".
Golden showers – The act of one adult deliberately peeing on another consenting adult.
Gorean – A form of power exchange based loosely on the fantasy world created by Frank Norman in the series of "Gor" books.
Hanky Code – An evolving method coming from the gay leather scene of designated your role and interest in particular kinky activities through the color and position of a bandanna.
Hard limit – Any part of kink that a person refuses to engage in, usually set as a boundary when collaborating to plan a scene.
Hedonist – A person who seeks fulfillment through pleasure – in kink, often denoting a person who is more interested in sensations and experiences than relationships.
Hogtie – Any form of bondage that includes tying both wrists to the ankles, usually behind a person's back when they are laying face down.
Impact play – Any form of kinky activity that involves the body being struck with some degree of force, either with another part of the body (such as spanking or kicking) or with an implement (such as a flogger or paddle).
Kajira/Kajirus – A submissive person in a Gorean style of play.
Kink friendly – Someone who does not consider themselves kinky but supports those who do.
Kinbaku – A Japanese term that translates as "tying tightly" and is used in the west to describe a style of tying that is considered by some to be more complex on physical, emotional, and mental levels than other forms.
Leatherman/Leatherwoman – A person who identifies with some form of Leather culture.
Leather House/ Leather Family – A group of people who identify their relationships and connections as some form of Leather culture.
Little – An adult who enjoys taking on childlike characteristics.
Masochism/Masochist – Named after the author Sader-Masoch, this is the general characteristic or identity of taking pleasure through enduring some form of suffering.
Master/slave – A particular form of consensual power exchange relationship based loosely on some form of cultural slavery.
Mindfuck – Any form of play that involves a person doubting their own perception of reality.
Mummification – The act of wrapping a person's entire body with some restraining material, often Saran Wrap, bondage tape, or with specially-designed latex or leather suits.
Munch – An informal gathering of kinky people, often at a cafe, restaurant, or bar, for the purpose of socializing rather than cruising or play.
Negotiation – A term used to describe the conversation before play where two partners collaborate to create a scene that will be as satisfying as possible to both without crossing any hard limits.
Newbie – A term for someone who is inexperienced in a particular form of kink. It is entirely possible to be expert at one kind of kink and still be a "newbie" to some other kind.
New Guard – Often used in the Leather community to denote someone who does not identify completely with "Old Guard" traditions or values.
Old Guard – Often used in the Leather community to denote someone who identifies with the values they consider to be from the original founders of the Leather Community.
OTK – Acronym for "over the knee", a form of spanking impact play where the bottom is bent over the lap of the top.
Pegging – A form of strap-on play usually involving a man being fucked anally using a dildo with a harness.
Play party – A gathering where kinky and social activities are encouraged, often taking place at a dungeon with dungeon monitors (DMs).
Polyamory – A relationship style involving multiple romantic relationships with the full knowledge and support of everyone involved.
PRICK – An acronym for an attitude about kinky activities being "Personally Responsible Informed Consensual Kink." (Contrasted with RACK, CRASH, and SSC).
Primal – A style of play that eschews intellectual and complex roles in favor of instinctual and animalistic behaviors and appetites, still within a consensual and risk-aware collaboration.
ProDomme/Professional Dominatrix – A woman with the skills, experience, and resources to provide dominant BDSM activities to paying clients.
Protocol – Literally a way of doing things, often used to describe rituals or expectations in a power exchange relationship such as kneeling, verbal honorifics, etc.
RACK – An acronym for an attitude about kinky activities being "Risk Aware Consensual Kink." Often contrasted with SSC, PRICK, or CRASH.
Sadism/Sadist – Within kink terminology, this is a person who takes pleasure in the consensual suffering of others.
SAM – Smart Ass Masochist – This is a type of "brat" who often will mock the person topping them, usually in an effort to get the person to top them more intensely.
SSC – An acronym for an attitude about kinky activities being Safe, Sane, and Consensual, attributed to slave david stein.
Safeword – A word designated in the initial planning of a scene that would mean that everything needed to stop while the players check in with each other. This is usually something that would not normally be said ("Rutabaga!") and can be used by anyone in the scene.
Scene – A period of time agreed upon by kinky people during which they will consent to some kind of play.
Service submissive – A person who gets satisfaction out of doing things for other people, either individually or as a community. These can range from personal attendants to sexual acts to positions of leadership.
Sissy – A man who has been feminized, often under the direction of a dominant, through clothing, makeup, body language, sexual activities, or simple words, or any combination thereof.
Slave – A person who has consented to an extreme method of power exchange resembling some form of historical slavery, but within a modern mutually-satisfying context.
Soft limit – A phrase to signify a kinky activity that a person usually does not want to engage in but which they may decide to explore under the right circumstances. Soft limits are still limits, and require discussion before they can be changed.
Submissive – A person who tries to do what the Dominant has decided they should do.
S-type – Someone who has submissive tendencies in some form.
Sub drop/Top drop – The state after a scene where the body has been depleted of things like water, endorphins, adrenaline, serotonin, or simply rest. Often characterized by fatigue, depression, self-doubt, and other negative emotions. "Drop" is countered by after-care, whether personal or from a partner.
Sub space/ Top space – A state of "flow" where a person feels they are completely embodying their presence as a top, bottom, submissive, or dominant.
Switch – A person who enjoys more than one state of top, bottom, dominant, or submissive. They do not have to be one or the other at any given time, and can be any combination simultaneously.
Swinging – A form of socializing focused on sex with multiple partners.
Tease and denial – Often associated with "edging" and "chastity play", this kind of kink involves stimulating a partner sexually (through actions or words) and denying them release or satisfaction.
TNG – Acronym for "The Next Generation", an unofficial group within kink communities usually designed to benefit only kinksters under a certain age (usually 35).
Top – The person actively doing some kink activity to the bottom.
Topping from the bottom – A phrase meant to indicate that a bottom is directing the top in how they want to be treated within a scene. Originally derogatory, it is now widely understood to be simply a means of communicating desires and limits and therefore a very useful thing to do.
TPE – An acronym for "Total Power Exchange", a form of relationship where one partner agrees to let the other have as much control as possible over their behavior, often extending into everyday life, finances, and biological functions such as eating and going to the bathroom.
Vanilla – A term meant to denote a socialized "norm" of sexual behavior.
Warm up – The equivalent of foreplay in a kink scene, this is the slow and incremental increasing of sensation or impact to allow the bottom to acclimate to the scene and hopefully play longer.
WIITWD – Acronym for "What It Is That We Do," meant to indicate the wide spectrum of kink activities as opposed to "vanilla" behavior.
The BDSM Glossary is a project we created to support Black-led initiatives working toward intersectional justice and liberation. Since monetary support is crucial for a sustainable movement, this digital, printable guide is our way of raising funds for this important work. 100% of the proceeds from the sale of the BDSM Glossary PDF go to Black-led, justice-focused organizations.