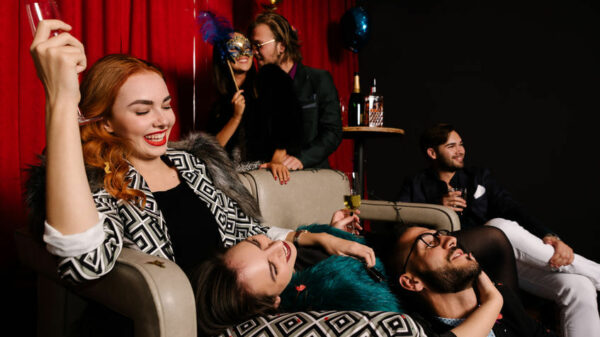 As the saying goes, there are different strokes for different folks! So when it comes to one's sexual appetite in and outside of the bedroom, everyone has their own preferences, needs, and wants. And this is actually a good thing! Could you imagine a world of monogamy and missionary sex? Sure, some find this the highlight of their Friday night, but for others – they need more… much more.

That's why practicing swinging is super popular among polyamorous couples who enjoy the thrill of sexual experimentation and feel that variety is the spice of life. But first, what exactly is swinging?

Swinging is when singles or couples swap sexual partners within a group. The practice is fairly common, which means you'll more than likely find one or several swinger's clubs in cities all over the world, as well as at-home gatherings/parties.

But don't think that you can merely show up to a swinger's event and do as you please, because there are a few unspoken rules and regulations you should know about before you enjoy one of these parties. We've put together a list of things to know beforehand for those looking to get into the swinging scene.

Safety First
If you're new to all of this, you may be thinking that everyone meets and simply plays with each other like a love free-for-all. This is definitely not the case. And before any play time actually begins, safety is checked off the list. That means using protection at all times.

If a swinger's event does not place importance on safety, then we suggest you find a more established and safe place to enjoy your sexual preference.

Respect and Consideration
Attending a swinger's party is not a massive f*ck fest where you can be free to act like a terrible human being with no morals, doing whatever you want. The men and women at an event deserve respect, and should be treated as you would any other person outside of a swinger's party.

Additionally, attending a swinger's party does not mean you're in the presence of people who will be willing to do anything and everything with everyone. Attendees are people who merely enjoy the act of swapping partners in a consensual and safe space.

You Can Say No
All real swingers will tell you that consent is the most important thing to adhere to when attending a party. If it's not, then you're at the wrong event!

So even when it comes to feeling uncomfortable with even light touching, caressing or kissing, you need to politely express that you are not interested. Being polite is key, as no one wants to feel threatened, undesirable, or as if they've crossed a line.

The same goes for the person initiating contact with another. If the person has politely told you that he or she is not interested, it is up to you to back off and respect their boundaries and wishes.

And now that you know the unspoken rules of consent when it comes to swinging, here are some super helpful channels in which to find swinging clubs and parties in your area:

With that, we wish you tons of safe and kinky fun, wherever you may be!
Helena is a sex-positive copywriter from South Africa with extensive copywriting experience in the adult industry. Currently living her dream traveling the world while writing, Helena is a passionate artist and dreamer.