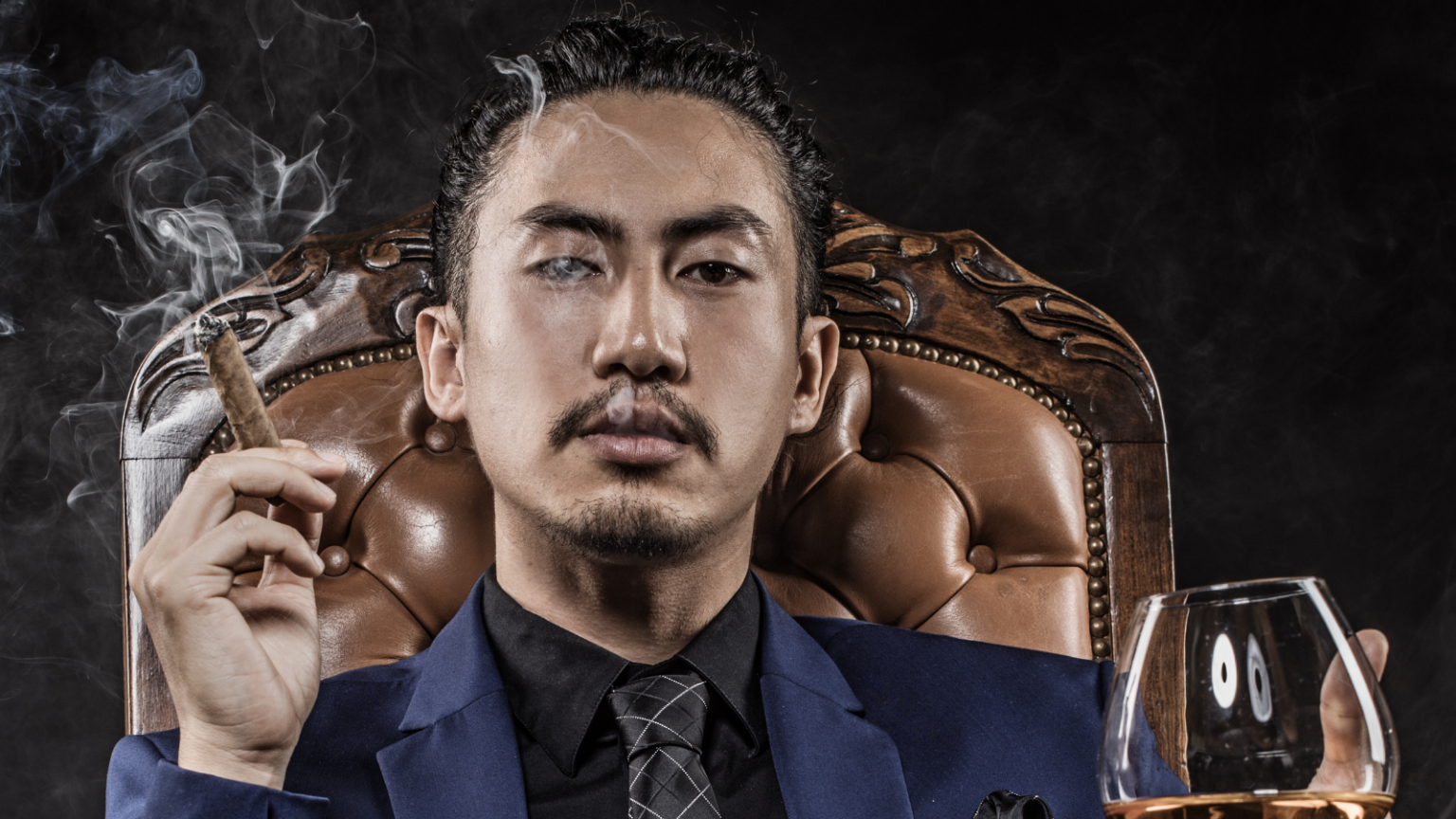 Disclaimer: Like any kink, there are definite risks involved in cigar play, including but not limited to increased risk of cancer, various degrees of burns, breathing-related difficulties, and shortness of cash. Everyone should do the research to accurately evaluate their own risk profile before engaging in this kind of kink.
For as long as there have been leather communities, and maybe longer, cigars have been a part of BDSM. Gay leathermen have reveled in the obvious phallic resemblance as they wrapped their lips around the firmly packed stick. As pansexual leather groups have flourished it has been common to find "cigar socials" or "smokers" as part of events. There has even been the creation of a competition to earn the title of "Hot Ash" at several events – a title held by several kinksters including Poetic Desires who you can find here on Kink Academy.
For the past few years, though, you find cigar socials happening at events only tangentially part of the leather community – pansexual events like Dark Odyssey or Central Ohio Perversion Excursion, and even ROPECRAFT (which is focused on rope bondage). There is even an informal munch-style "organization" called "Cigars, Boots, and Chocolate" that has chapters all across North America where kinksters enjoy bootblacking, cigars, and…well, you can guess the third thing.
What is it about this kind of play that attracts kinksters? Why is something that many consider a "filthy habit" appealing even to people who don't smoke?
The answer comes in three: ritual, sensation, and power.
The Ritual of Lighting a Cigar
Cigars are a high-maintenance hobby. Even before you smoke them, you have to make sure you have a special temperature-and-humidity-controlled place to store them. Buying them can be complicated whether due to local taxes or whatever the current state of the U.S. embargo to Cuba might be. But most complex of all is the act of lighting the cigar.
There are three steps you have to take before the first puff:
Wet it. Yes, when you're talking about kinky cigar play, this is one of the most sensual and personal. The submissive act of letting a dominant use the submissive's body in some way to moisten the tip of the cigar plays into many levels of kink: objectification, service, and just raw sexuality. The fact is, you can use whatever you choose to moisten or flavor the end of your cigar (within your own risk profile): seminal fluid and semen, ejaculate, even blood. There's a lot of kink there.
Cut it. Traditionally this is using a specially-made guillotine cutter or cigar punch, but a sharp knife is also a pretty sexy way to cut the cap off of a cigar. Movies like Mission: Impossible 2 already establish the cutter as a tool of fear; it's not a far stretch to work that into a consensual kinky scene, or to simply use a person's preferred method of cutting as an act of service.
Burn it. While some cigar aficionados are very picky about how they light their cigars, the fact is that anything that you use in kinky play that involves flame could also be used for cigar play. Doing wax play? You can use the candle to light the cigar. Doing some light torch fire sensations? Use the torch to light your cigar first. Yes, it will change the taste of the cigar at first…but if you're including a cigar in your kinky play, you're not there for the taste anyway.
Sensations of Heat, Smoke, and Ash
Speaking of cigar play, one of the ways that cigar kink has been described is as "slow-motion fire play." Or, as Daddy Wendell (International Leather Daddy 2010) put it: "It's on FIRE." This means that any of the things you can do with regular fire play – heat, quick "strikes", even igniting flash cotton – can be done with a cigar. It is important to remember, though, that this means that like all fire play, extensive preparation to mitigate and understand the risks involved is necessary.
One way to mitigate it is to use something like ash instead of the direct burning end of the cigar. Ash is often hot or at least warm, but usually no more than most hot foods. It can be spread across the skin for "dirty cigar slut" scenes or used to add a rough abrasive quality to spanking. Smoke doesn't have quite the same sensation as ash, but can be a powerful visual during things like oral sex or simply while doing some other act.
Power
There's a lot of documentation of cigars representing power. While that's often equated with wealth, that can't be all there is to it – Wolverine, Clint Eastwood, Fidel Castro, all are "cigarchetypes" who aren't really associated with money. Some speculate that it's simply an association of the phallic imagery, or more along the lines of having disposable time and attention to give to a cigar.
Whatever it is, one of the unusual aspects of cigar play is that it easily integrates into all kinds of kink and role play. At an event in Seattle one summer they had four nights of cigar socials, each with a different theme, including things like "steampunk" (electrical play, caning, etc) and "Mad Men" (60's-style dominance, suits and secretaries). Women of power from Catherine the Great to Aisha Tyler smoke cigars, and even littles can get into the action with some "Baby Herman" action from the movie Who Framed Roger Rabbit.
What it comes down to, pun intended, is that the reason so many kinksters are enjoying cigar play now is because it's hot. Whether it's just for camaraderie or for some hot and kinky ritual between lovers, there is a place in the cigar play world for your kink.