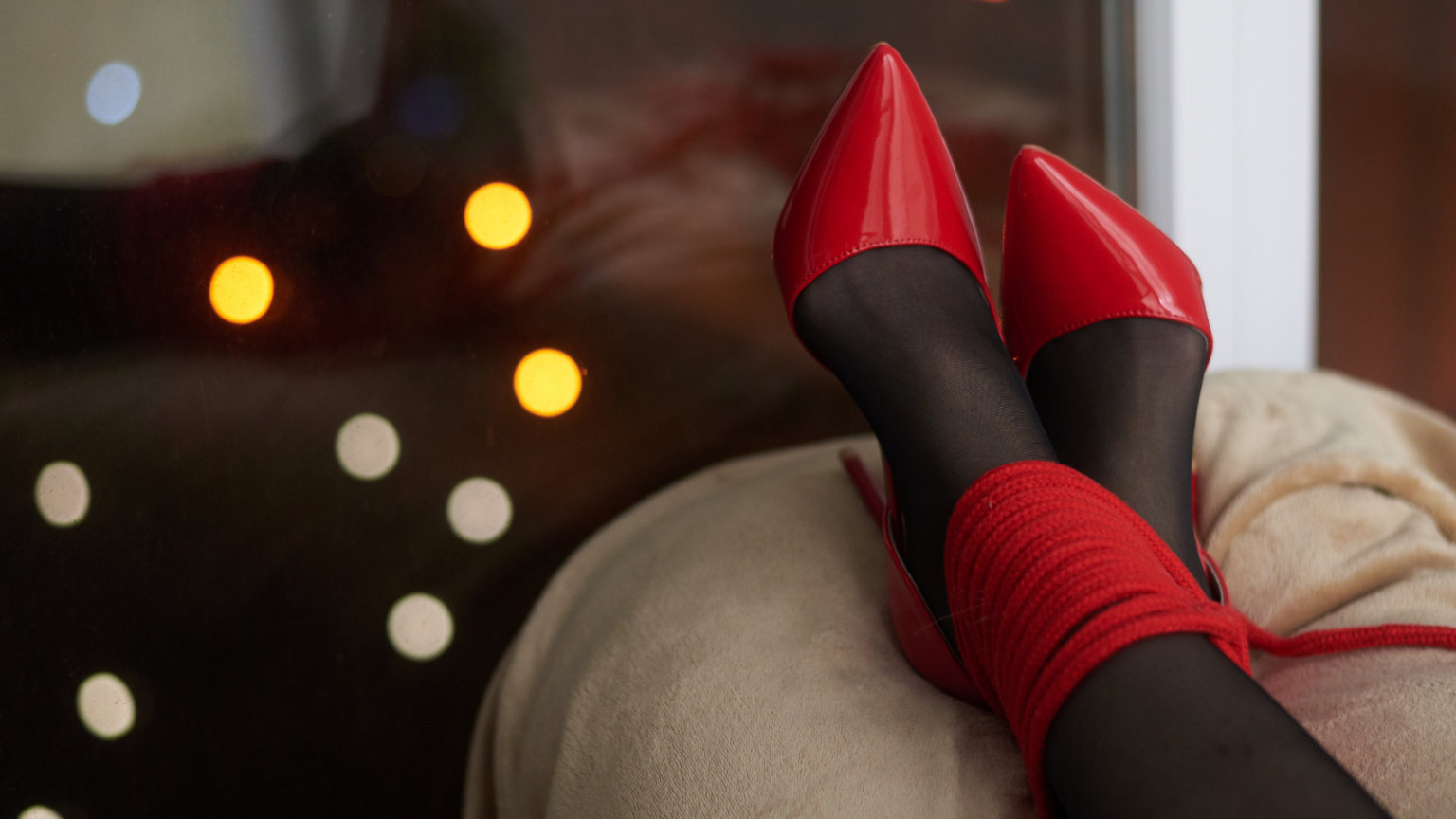 Kinky gifts are always just a bit more special during the holidays. It's not so much that you're being extra perverted. After all, the purpose of the season to give people things they want, isn't it? No, it's more that with sexual gifts you are giving them a gift that touches on a more primal part of their desires, a more visceral need.
When someone gets a book or a sweater or a piece of jewelry, they might have a moment of "Oh, that's nice…" When they get a kinky gift, on the other hand, there's a much deeper little twitch of gratitude (often located somewhere down near the hips) and a moment of "Oh, that's going to be nice…"
Here at Kink Academy, we wanted to share with you some of the more imaginative and fun gifts that we hope people find in their pile of presents during the holiday. Click on each title to go directly to where you can purchase each item — and these are not affiliate links; we don't get a cut of any of it, we just want you to know about them!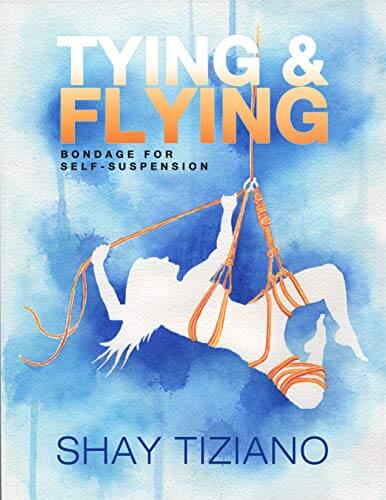 Tying and Flying One of the most prolific and popular instructors on Kink Academy, Shay Tiziano, has worked for over a year to bring her expertise to paperback book form. " This first-ever guide to self-suspension takes a thorough and nondogmatic approach, including everything from meticulous safety information to practical step-by-step rope bondage instruction. Beautiful color photography with a diverse range of self-suspenders is featured throughout." We've seen the book ourselves, and have to give an extra thumbs up to both the rigorous attention she gave to the instruction and also the gorgeous design of the book. Whether someone is a veteran self-suspension enthusiast or just interested, this is a great book to add to your shelf!
Butterslube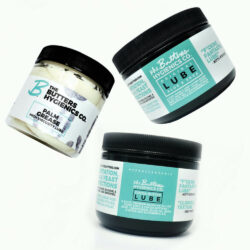 – You gotta grin at the motto on the front page: "100% Bullshit Free" In a world where flavors and colors and strange claims abound in the world of sexual health, it's refreshing to see a small business — a black queer owned small business, at that — just bringing it back to basics with a line of vegan hand-crafted lubes and massage oils that just do the job. They have a very simple guarantee: " YOU WILL LOVE WHAT YOU BUY OR I'LL MAKE IT RIGHT." It doesn't get simpler than that. You can order a sampler pack, a single order, or even (this is brilliant) a monthly lube subscription! These are natural oil-based lubes, so if you're going to use them with toys or condoms, be sure to check if they play well together!
Steelwerks Device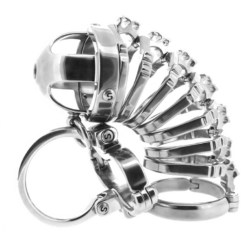 – One of the most popular kinks out there is chastity — which is part of why we were so happy to welcome Tisiphone to our site in 2019. This company uses the latest technologies to design amazing creations, and then "… from a simple piece of metal, your fantasy emerges." These aren't so much toys as functional pieces of art that are worn on cocks. With a wide range of male chastity from "lifestyle" through "discipline", just exploring their site can be a winter wonderland on it's own. They also have a very interesting range of devices designed for the female anatomy, as well as some unusual sex toys.
Cobalt Colors Against Cancer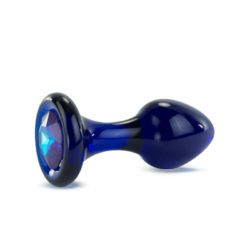 We've paired with Crystal Delights for more than one giveaway in the past, and it's especially fun to "plug" this item (see what we did there?). I mean, if you're going to enjoy some anal stimulation, what could be better than knowing that it was going to be also helping to fund research towards curing cancer? And if you need more inspiration, we've got you covered here at Kink Academy.
Kinkopoly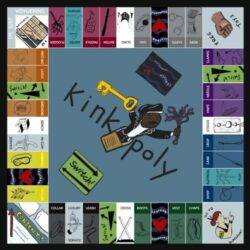 —If you can have strip poker, why not having kinky monopoly? This is what happens when "two queer leather bois, one from Oakland, the other from the Baltimore area" decide to make "this game while attending far too many kink events that were serious, not-so-social, and a little snobby even!" We're all about the non-snobby here at Kink Academy, and with a bunch of consenting and kinky friends, this is a recipe for a wonderful holiday party game.
Yes, No, Maybe Workbook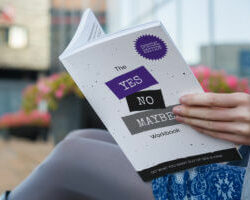 — OK, maybe this one is a little more personal, and yeah, the proceeds do go to the author. The Kink Academy founder, Princess Kali, worked hard on creating this workbook to help anyone get exactly what they want out of sex and kink. We've talked before about why this is such a useful gift for friends, lovers, couples, or even just to treat yourself. For the holiday season, you can go with the goth-and-domly black and white edition, or add a splash of sexy purple to your kinky research with the special color edition. Visit the site and you can get a taste of what's inside with Princess Kali's free "negotiation list", but the real gold, much like many bedrooms, is between the covers.
Whatever way you celebrate your holiday, we at Kink Academy hope you have a hot and sexy one!