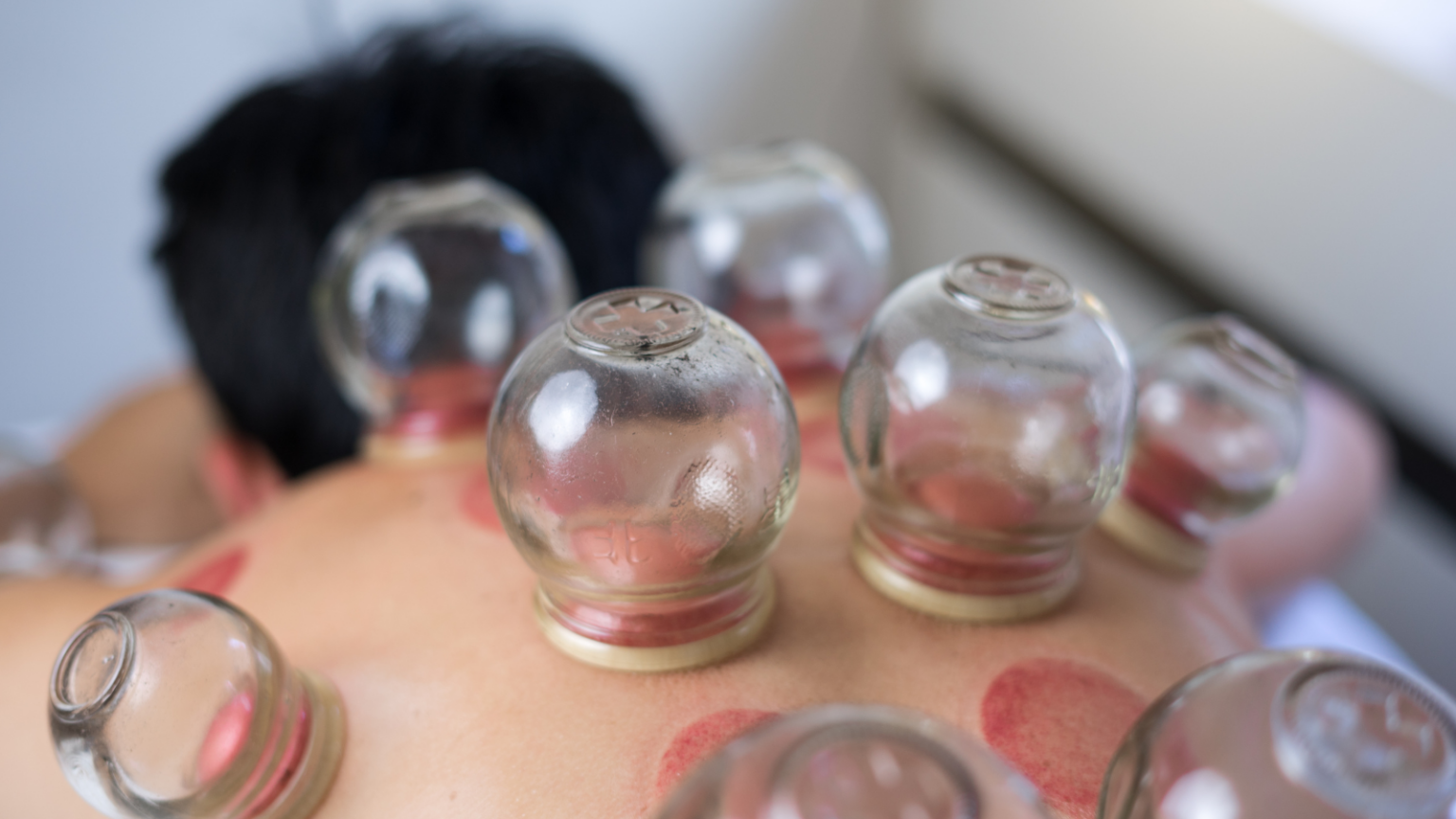 Aw sweet, sweet memories. When I was in my 20's I loved to push my pain thresholds and endurance as a masochist. It made me feel accomplished to have taken more licks from a whip than I thought I could take. I marveled at my bruises in the mirror as if they were badges I'd earned. But as I am approaching 40 my body has changed. Like many other people, trauma and age has taken a toll, and so I have had to adjust my kink to accommodate for chronic pain and illness. Although, that hasn't stopped me from exploring the wide array of sensations I can experience through kink. Here are just a few of ways someone with chronic pain can get their kink on.
Cupping
Cupping is an alternative therapy that has been around for much longer than BDSM. It uses glass cups to suction the receiver's muscles. It can be gentle, or it can be done quite painfully, depending on your threshold and desire. The suction created with the cups can help loosen tight muscles, improve blood flow, and reduce inflammation in the same way a deep tissue massage might. There are several methods for cupping, and it requires some special equipment. (You can't just use the glass cups in your cupboard!) Like any other skill it also requires some knowledge and practice to really master. My favorite method is fire cupping, which uses heat to create the suction. The heat feels so relaxing to tense muscles. Personally, being a little afraid of being set on fire is part of the thrill! A little adrenaline rush with my deep tissue massage? Yes please. 
Mummification
If you're the kind of person who likes sleeping under a weighted blanket, or if you have nervous or sensory system differences like fibromyalgia, autism, or anxiety, mummification might be a kink you enjoy. Mummification can be done with pretty inexpensive items and doesn't require special equipment. You'll never look at your roll of plastic wrap the same way again! There are just a few safety tips to be aware of, and like many kinky activities, requires a partner that you feel comfortable communicating with. During mummification, the receiver is wrapped tightly in a material (plastic wrap is great), and their mobility is restricted. This could be a great jumping off point for some tease and denial play, or it could just be a time for the receiver to feel safe and secure with their top close by. You can do partial body restrictions, or you can amp up the endorphins and adrenaline by wrapping the face and including some breath play. One must-have item to have on hand – a fan! It can get dangerously hot under those wraps! 
Wax Play
Another great kink activity for people with chronic pain – hot wax. Most people who play with wax use paraffin candles. It's the same kind of wax they use at the nail salon. It really makes a difference what kind of wax you use, because different kinds of wax melts at different temperatures. You want to use a low-temp wax, so its best to invest in good wax online or a craft store, and do not be tempted to use cheap dollar store candles. My favorite way to play with wax is to buy it in bricks and melt it down in a double-boiler situation in a crockpot. That way instead of dripping wax from a candle a little at a time, you can pour larger amounts of wax over muscle groups all at once. If you wanted to make it pretty for pictures, you could melt crayons into the wax to make different colors, then paint it on, or drip it, or pour it over someone's back, shoulders, or chest. Your body is a canvas! The warmth of the wax can help reduce muscle tension and pain. The wax also makes your skin super soft and smooth. You can even add drops of vitamin E to the wax to increase that benefit. A tip that I learned the hard way – rub your skin down with baby oil before pouring wax on your body. That way you're not spending hours scraping tiny bits of wax stuck to your skin after you're done playing. Unless you really want to be painstakingly scraped with a knife for a while, in that case, skip the oil and up the ante with some knife play! 
There is a kink that will fit your ability, desire, and circumstances, no matter what they are. Maybe deep bruising play isn't for you, but that's ok! Exploring different sensations is a lifetime journey. Kinks that are consensual and bring you pleasure are not only valid, but kinky play can even be therapeutic for people who have chronic pain or sensory differences. 
**This is not intended to be, or replace medical advice. There are benefits to speaking to your doctor before putting yourself at risk.
Bio:

Erin Kennedy is a professional educator who has practiced risk-aware kink and ethical polyamory for over 17 years. Her website, Sexfortherest.com, is dedicated to alternative sexuality education and advocacy, studded with stories from her life as a sexual outlaw.