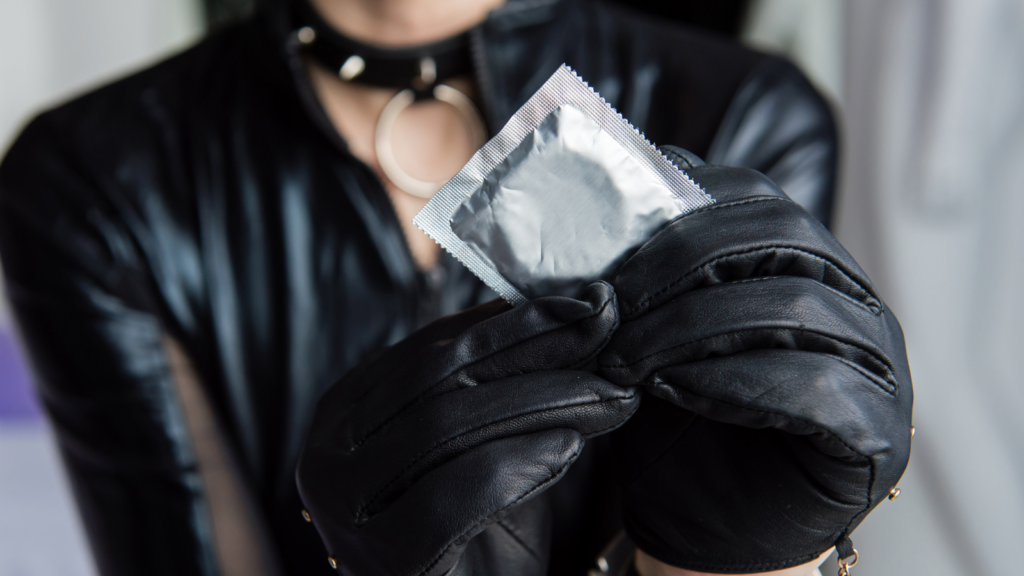 The class was about safer sex practices, and the presenter wanted to counter the common excuse that goes something along the lines of "I can't wear this condom, it's too small…" They opened a condom and stretched it out until it was wide enough to fit over their head. Looking ridiculous in the improvised latex hat, they stared defiantly at the audience. "You can't tell me it's too small for your dick!"
Yes, but now let's see you have sex like that. While they were absolutely correct that there is never an excuse to compromise your safer sex boundaries, they were denying the fact that cocks do come in all shapes and sizes. While it is theoretically possible for any condom to fit any erection, it doesn't mean it's comfortable, much less pleasurable. Finding the right size for whatever cock you're trying to wrap can make the difference between a hurried and uncomfortable sex and an easy and pleasurable time.
Re-wrapping the Condom Experience
There's an understandable reason for the "Wear it or else!" draconian attitude about condoms, even from people who have no idea what it feels like. Condoms have been around for hundreds of years, and they've never really escaped their awkward, embarrassing, and discouraging reputation. Condoms are portrayed in popular culture as interrupting the natural flow of sexual intercourse, and people are teased or worse about having them.
Worse, most of the time both porn and mainstream media show unprotected sex as the norm, and when they do show condoms they are usually unrealistic. In between one frame and the next the porn star's cock suddenly has the condom on, without showing the director yelling "Cut!" while the star fumbles with the wrapper or needs to be fluffed before it can be put on.
It's not surprising that (mostly) men have tried to come up with many excuses not to wear condoms, because on top of all that bad publicity is the reality that condoms reduce the amount of sensation a cock can feel. Unfortunately, that can sound like just another excuse, and "If I wear a condom, it doesn't feel good" is often met with some variety of "That's just too bad; if you wanna get some, you gotta be wearing it."
Finding Better Ways to Talk About Condoms
Kinksters might have the answer to this problem, because if we're good at one thing, it's talking, especially talking with our partners about their satisfaction and pleasure. In fact, kinky people have a head start, because we're no strangers to loving latex.
Let's start with the that complaint about reduced sensation. A tiny bit of empathy can change things around: "Oh, man, that sucks. I definitely want your cock to feel good…Maybe we can come up with some ways to compensate for that…" Suddenly everyone involved is less defensive, because they're on the same side: the condom is going to be worn, and they're both invested in making it feel good.
As it turns out, there are a lot of ways that kink can help make that sensation feel better, starting with the trick of putting lube inside the tip of the condom, so that it feels better against the shaft of the penis. If someone is having trouble maintaining their erection with a condom on, an improvised rope cock ring can add a lot. Vibrators can also increase the sensation for both partners when applied directly to the penis.
Embrace the Abundant Penis
One of the more harmful stereotypes about male sexuality is any variation of the idea that all men are easy to get off without much effort. While there are people with cocks like that, the reality is that there are just as many individual kinds of arousal and orgasm as any other gender.
Rather than perpetuate the stereotype of anyone with a cock as an insatiable sexually hungry beast just looking to squirt and roll over and start snoring, it would be more useful to get to know the cock in question and find out exactly what kind of things turn your partner on. Is there porn that they find arousing? Dirty talk? Perhaps they want something intense like face-slapping, or just need a little prostate stimulation to find even more joy with a condom on.
The fact is, the varieties of pleasure available to the penis become infinite when we stop thinking of it as a disconnected organ. It's part of the whole physical body as well as the biggest sex organ of all: the brain. The idea of a cock-owner's pleasure being a few strokes and one single squirt of orgasm is more a reflection of toxic masculinity than reality.
Applying Kink Mindset to Condoms
Kink is all about taking things that some people consider uncomfortable and finding pleasure the pleasure within. Starting with the act of putting it on, there are all kinds of ways to eroticize it:
"Look, darling, I have a custom-fit latex suit for your cock…let's slip it on so I can polish it in a very special way."
"How badly do you want to be fucked tonight, my little doll? Let's see you put this condom on with your mouth…"
"You love it when I humiliate you, don't you? I got this 'extra-small' condom just for you. It'll probably be too big, but maybe it'll be just right."
"Oh Domine! Here is the selection of condoms you asked me to get from the sex shop, in as many colors and textures as I could find. Which one would you like to use on me first?"
Why make it a bumbling, embarrassing, break in the flow when you can make it a key ingredient of the whole experience? It changes the experience into a sort of reverse striptease, where everyone is mutually invested in the cock being covered and enjoying the process.
Kink up your condom use, and make the world a safer and sexier place.