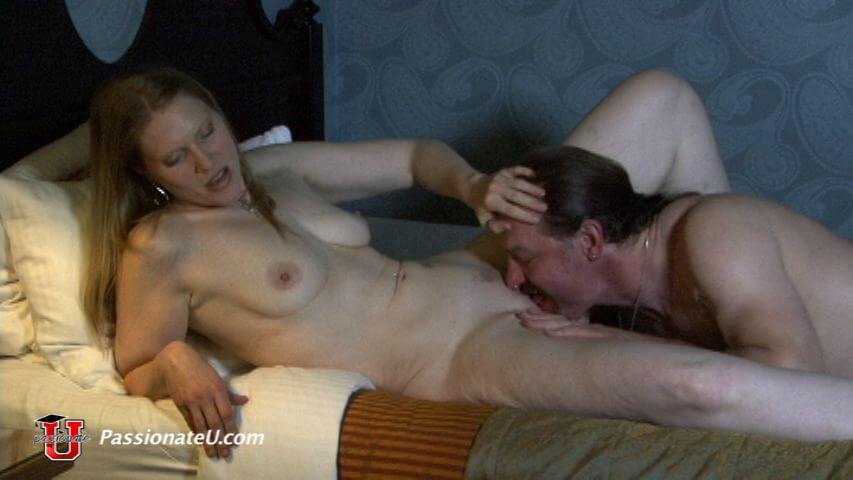 Here's a pop quiz: when is is appropriate for a dominant to eat pussy or suck cock?
The correct answer is: "Any time they want to.*"
If you hesitated at all, you might still be operating under the mistaken idea that giving fellatio or cunnilingus is inherently a submissive act. That's ok, it happens to most people. Those acts are often portrayed that way in popular media, and that carries over into some of the assumptions about what a dominant person "should" do. In truth, though, the dominant person is supposed to be the person who is calling the shots, so if they want to go down on their partner, that's their prerogative, right?
Besides, think about it: giving oral sex means one partner has their mouth — an organ literally designed to rip into meat — next to their partner's most vulnerable and sensitive parts. How is that not a powerful and scary exercise in control?
Dom-Nomming Like a Pro
There are many ways that other topping skills can be drawn into oral sex. For starters, there are many ways to use leather harnesses or some quick rope bondage to spread someone open so that they are like a delicious buffet just waiting for you to arrive. You can increase the feeling of vulnerability and pleasure by adding in a few toys in whatever orifices seem appropriate.
Like any topping skill, it is important to spend some time mastering of the techniques of blowjobs or cunnilingus (or both, if that's where the dominant is going). Usually these kinds of classes are mainly focused on the receiver's pleasure, and that's definitely a useful point of information — but when a dominant is doing it, it can be more about what kinds of things they like to do, and it might become the submissive's job to simply provide the ingredients for an oral sex feast.
Not cocksucking, cock-DEVOURING
Experts such as Madison Young have produced hours of video demonstrating their mastery of fellatio. When you're adding dominance to it, you can add in a little rope bondage to make a cock ring & ball stretcher, or be even more spontaneous and use something like nylons. The only thing that might be sexier than ripping off a submissive's clothes is a dominant ripping off their own clothes to quickly tie up the bottom.
Some fellatio techniques such as deep throating or sloppy blowjobs can be easily turned around into humiliation play. Imagine a dominant partner maintaining eye contact as they take a cock balls-deep, implying that it must not be very big if it's that easy to take in…or forcing their submissive to lick the ejaculate off their cheek.
Using pleasure as torture
A common effect of orgasm is oversensitivity, especially for the clitoris. This provides an easy way to use pleasure as torture, where even the lightest touch can make them shudder or make very entertaining noises.
Thanks to tantra, there are also techniques for making a man cum without ejaculating or a woman squirt without orgasm, both of which can be incredibly vulnerable ways to take control of a partner's body. It's not a very difficult re-frame to change the idea of swallowing your partner's fluids from a submissive act to a vampiric one, where you are inexorably draining them with pleasure.
A creative dominant can turn any physical situation into an opportunity for control and consequences. "I know you just had an orgasm, but if your cock isn't hard in my mouth in thirty seconds I'm going to give you thirty strokes with the cane." "Look at what your hungry cunt did to my face! Lick it clean, now!" "Why are you squirming so much? You need to hold still while I taste what is mine…"
There are many sides to dominant oral sex
All of these ideas are regarding the idea of the dominant being the one performing oral on the submissive, because that is most commonly mistaken as inherently submissive. It's really all about the intent. A dominant could "face–fuck" their submissive by voraciously using their mouth, dragging the helpless partner back and forth by the balls. There is very little possibility that would be interpreted by anyone as submissive.
Other oral sex techniques such as "queening" (smothering a partner's face with a vulva) are equally misunderstood to be inherently dominant, but with the same kind of reframing it can be a service provided to a dominant who wants it. The important thing to remember is that creative and consenting partners can fulfill all of their desires around oral sex while still staying in their chosen roles. Don't let false stereotypes keep your mouth from exactly the genitalia you desire, and go down hard.
* Obviously assuming a consenting partner.