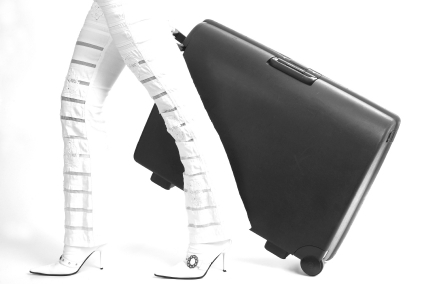 Unlike most vacations, traveling to a kink event can present some challenges unique to BDSM enthusiasts. You may be very nervous about the idea of TSA agents pawing through your things, and wonder if the wrong dildo in your carry-on might end up getting you put on a no-fly list. There is both good and bad news for you:
The good news: it is entirely possible to bring almost anything you would normally use in a dungeon with you to an event!
The bad news: the TSA is notoriously random and capricious in the way they enforce their rules. For example, one year two bondage performers traveled from separate parts of the country to the same event in Florida. One of them was able to carry on to the plane a five-foot length of heavy chain with no problem. The other was forced to remove her nipple piercings before they considered her "safe"!
Now, it turned out it was illegal for them to force her to remove her piercings. However, she was following the first rule of flying: YOU CAN'T WIN ARGUMENTS WITH TSA. There may be exceptions – Princess Kali or Domina Snow might be able to make them bow to their will, but for most people, it's best to simply be honest and friendly and don't be too attached to the things you want to bring because they may be confiscated.
This means you may want to pack your second-best paddle, or leave that REALLY expensive latex outfit in your closet. But what if you have to have it? One way to help secure your belongings is to include a full list of everything in your suitcase IN your suitcase, so that when inspectors open it they are aware that you know exactly what's inside and what might go missing. Often times anything from cigars to clothing to rope can disappear from luggage, and having a list helps solve that.
Normal carry on and checked-baggage regulations apply – so things like firearms or pressurized lighters or fuel are probably not a good idea. Knives will not be allowed in carry-on baggage, and in some cases even safety shears can be too scary for the TSA. It's best to check those bags. Incidentally, this is part of the reason that so many kinksters love flying Southwest Airlines – two free bags checked mean that you can bring a lot of toys!
Rope enthusiasts such as Topologist, Graydancer and Ava Amnesia have successfully brought rope and carabiners and other suspension gear in checked bags. If asked, they will usually not say "I teach bondage and kinky sex!" but rather talk about rock climbing or even aerial yoga! Occasionally toys such as floggers or canes can be brought in carry-on, but it's a chance you're taking – they can be seen as toys, but they can also be seen as weapons (imagine a dragon tail in Princess Kali's hands on a plane!). It's usually best to include them in checked luggage.
Aside from the worries of theft or lost luggage, there's also the question of how to pack some of the more unusual items. Here are some tips for how to pack your gear safely:
–Leather outfits should not be folded – rolled or layered is best. Most bootblacks also recommend against hanging up leather items – they are best laid flat. You may want to put tissue paper in between layers of leather gear, because the dyes (especially from patches) can bleed into other areas.
–To pack your latex, it's best to use individual plastic baggies for each item of clothing, as well as carrying along the basic gear to get it ready to wear (as shown by both Qtip and Jean Bardot). Avoid letting latex come into contact with organic rope such as hemp or jute; the oils used to condition the rope can break down the latex and leave patterns that you don't want on your shiny pretty things.
–Often canes, whips, and other thuddy toys can be longer than luggage, especially if you have a collection like Panther Prowls. A quick and easy case for them is either a "poster tube" (available from art supply stores) or a simple poster mailer from the post office. These can usually make it through checked baggage fairly easily.
–Other solutions for carrying equipment as luggage are instrument cases (such as guitar or trombone), rifle cases (though these will definitely be searched) and golf club containers (which work especially well for portable suspension frames).
–If you are putting your electrical toys (vibrators, TENS, etc) in your checked luggage, make sure to remove the batteries. If one turns on accidentally, your luggage may be destroyed by an eager bomb disposal unit before you can explain that it's just Mr. Hitachi. On the other hand, if you're carrying your vibrator in your carry-on – and there's no reason you shouldn't – leave the battery in, because you may be asked to turn it on to "prove" it's what it looks like. Remember that they can only embarrass you if you let them; be sex-positive and strong and set the example of someone who is unashamed of their sexuality.
What kind of experiences and tips can you share about your travel?
Whatever you post or read here, remember none of this is a substitute for checking for current TSA regulations as well as the policies of the airline. The landscape of travel is changing all the time, and the wise kinkster keeps abreast of current events so that travel can be easy and fun.
Save