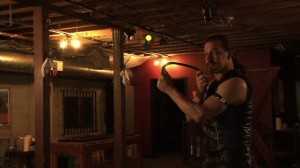 "Sticks and Stones may break my bones,

but whips and chains excite me…"
Whips are hot. Whips are loud. Whips are scary. Whips are hard! All of these things can be true, but it's also true that the idea of a whip is inextricably linked to BDSM and kink. Once you get past the reputation and rumor, though, what kind of real play is possible with whips? The Kink Academy has many instructors who can give you the answers.
One of the first things to figure out is what kind of whip is right for you? All whips are not created equal, and it's going to depend a lot on what you want to use the whip for in the first place. Stefanos is an expert whip thrower, and his first video on the subject not only covers whip choice but also the care that is needed for maintaining the leather.
One of the reasons whips have a reputation for being difficult is because they combine the need for skill with the risk of real and even permanent injury – either to the whipper or the whipped! This is why Stefanos takes two videos to explain the techniques for practicing for aim and intensity. He uses an actual partner for his practice, which can be a luxury; most novice whip enthusiasts start out with pillow, balloons, or even strips of tissue to learn how to send the whip where they want exactly as hard as they like.
Those videos are for a particular kind of whip known as a "single-tail" or "snake whip". Princess Kali enjoys using a different version of whip popularly known as the dragon tail. It resembles a broad, flat strip of leather attached to a handle, tapering to a point. The technique is similar to flicking a towel, but as Princess Kali shows in her first video on using a dragon tail whip, it is very easy to leave welts or even break skin.
Like the single-tail, there are several ways to throw the dragon tail, and Princess Kali does an entire series set in beautiful Jamaica at Kink in the Caribbean. Watch the clips such as the dragon tail underhand throw to enjoy some beautiful scenery along with the sight of a handsome man receiving her skilled ministrations with the leather implement.
Not all whip play has to be scary – sometimes you want to play with a whip but can't risk marking. Panther Prowls, an expert in caning and single tail, shows a wide variety of low impact singletail ideas that bring out the more sensual side of whip play. This is a great way for someone who is turned on by whips to be able to incorporate the tool into their play before they've developed the skill for the more dangerous stuff. The touch of the leather on skin, the aroma, the solid texture of the weave held in a strong hand…all of these can be intense parts of whip play without ever making a crack.
Of course, for some people that crack of the tip breaking the sound barrier is entirely what they're into. While they can be an end unto themselves, for some kinksters whips are just part of the larger scene. Ms. Nikki, a skilled "human pony" trainer, has a clip about the way pony players pull her cart, guided both by reins and by the snap of the carriage whip over their head.
It's a good example of the extremes that whip play can be taken to by someone who really works to master their craft. Whether you're just using it as a prop for a hot costume or planning a full impact session, the Kink Academy has the right people to teach you what you need.
Get crackin'!
Save