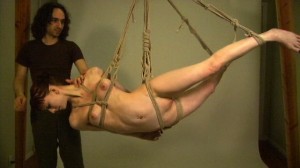 There's a popular meme going around which compares the idea of consent to tea. The idea is that consent is as simple as asking someone if they want tea: if they say no, then you don't give them tea. It's a cute little metaphor, and it can be useful for starting conversations about consent on a basic level.
Some sex educators find the metaphor a little too simple, though. As Dr. Nagoski of TheDirtyNormal.com put it, "Consent: slightly more complicated, because a person can both want tea and not want tea at the same time." And these critics are almost always talking about "vanilla" sex; when you get into the world of kink, things get somewhat more complicated than a simple "yes means yes". Sometimes people don't want to say yes – and sometimes they want to say no without that stopping whatever's happening. And sometimes they are turned on by something like a ballgag, and saying "yes" or "no" isn't possible.
Kinksters are nothing if not creative, though, so they have come up with many ways to indicate consent beyond "yes" or "no". Shay and Stefanos go into depth about how to come up with safewords, including various kinds of non-verbal signals that can both indicate "enthusiastic consent" or signal "this needs to stop now". One of the biggest takeaways is that no one should ever feel ashamed of using a safeword; that's part of the idea of "safe", after all. It's not a failure – it's a sign of clear communication and respecting boundaries.
If you want a metaphor that works for some forms of kinky consent, you can use skydiving. You consent to putting on the parachute, you consent to going up in the plane, and right up to the door you can still say "no" – but once you jump out, there is no going back, only forward, until you reach the ground. For some kink activities such as needle play, this is the kind of consent you are giving. You can say "no" right up until the needle goes in the skin – but once it does, saying "no" won't make it disappear. It has to come out again. Rope bondage is like this as well – when you are tied up and in the air, you can't just suddenly wish the ropes away. This doesn't mean you can't say "I have to come down now!" – part of the responsibility of being a rope top is listening to the bottom as well as having a plan for how to deal when someone needs to come out fast. But coming down and getting out of the ropes safely takes some amount of time, because gravity does not negotiate.
Some people enjoy playing with a more mental power-exchange form of this known as "consensual non-consent" As Mollena Williams describes in her two-part video series, this is where people "create a safe space to explore edgy areas of play and their own psyche." This kind of play is even more risky than things like rope and needles because you're playing with emotions, fears and deep role-play. There's much more that can go wrong – but like any extreme sport enthusiast, for some people that's the appeal. Unfortunately, some idiots use this idea as an excuse for some behaviors that fall into the category of consent violation. They forget about the one big difference between objects like ropes, needles, and gravity and actual thinking people: choice. When you play with consensual non-consent, especially as a top, you have to be extra careful to pay attention to communication with your partner – because when you take the "consensual" out of it, you no longer are playing; you are violating.
Sounds scary, doesn't it? It is. But many kinksters enjoy exactly this kind of play. How do they do it?
The only thing that makes any of these kinds of kinky consent possible is skillful and thorough negotiation. For more complex and loaded subjects like race-play, the negotiation starts with yourself: what are you about to put yourself through? Are you prepared for the possible consequences to yourself, especially knowing that you said "yes"? Then you go on to talking with your partner: do you trust them? Not just to do the things that you've both agreed to and maintain boundaries; that's the easy part. Do you both trust each other to react constructively if something goes wrong? It's this combination of broad strokes and fine details that makes consent in kink more complicated sometimes than simply "yes means yes".
Luckily, practice makes perfect (or at least better), and as long as you are aware of your own comfort level – both in terms of what you can do as well as what you want to experience – you can enjoy all kinds of hot BDSM action. It's never risk-free – nothing in life is – but it is risk-aware, and that lets you and your partners make the consent a truly sexy part of your kink.
Save