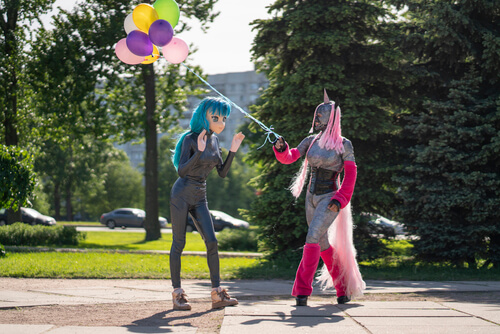 You're a perv, right?  We all are, to one extent or another. Sure, a bit of spanking, some rope play with that special someone, maybe even a bit of dressing up in sexy lingerie is fun for everyone. You're not alone in your desire to try something a bit new, unusual or even a bit odd (by society's standards). Hell, even presidents past and present are reported to have indulged in a fetish or two. As kink goes mainstream, however, one must cast the net wider to find what can be termed a 'Niche Fetish.'

Join me as I share my personal take on niche fetishes and show you some examples of the different fetishes that I have come across in my 20+ yrs in the BDSm & Kink community.

First stop: Kinky Town. Here is where we ask "What exactly is a fetish?" In the 21st century the word fetish has come to mean an object or body part that has become psychologically necessary for sexual gratification. In the more extreme cases many psychologists warn that the fetish may actually interfere with complete sexual expression or satisfaction. In layman's terms this means that the more extreme a fetish is, the less likely it is for the fetishist to achieve sexual satisfaction in a way that society considers "normal." Watch this fantastic, and easily relatable, video about unusual fetishes. Wintersong does a great job with his entire video series about unusual fetish play. Go check them all out, I'll be here when you get back. Go on.

Ah, you're back. Great; now we can get back to our exploration of Kinky Town. Or rather the fringes of Kinky Town. Here is where mainstream kink mingles with some of the more colorful, edgier and uncommon fetishes. These uncommon, or 'Niche' fetishes can include  everything your wildest imagination can conjure up. Seriously. Got a yearning to be dressed up like a baby and have your diaper changed? Yep, that's a fetish that usually goes by the acronym ABDL (Adult Baby/Diaper Lover).  Ever felt a tell-tale tingle in your pants while blowing up a balloon? You guessed it. That's also a fetish and many balloon fetishists call themselves 'Looners.'

Another uncommon fetish, but one that is rapidly gaining popularity, is the one that involves giants. This fetish, whose technical name is 'Macrophilia', is where an individual has sexual fantasies and/or fascination with giant sized individuals or objects. While this fetish is almost completely fantasy based, due to the scarcity of ten foot tall or taller women, macrophilia is a fascinating and multi-faceted fetish with hundreds and hundreds of videos dedicated to it on various porn sites. I'm pretty sure that no matter what your particular fantasy entails, if there is a giantess involved, there is at least one video out there that will thrill you down to your tiny toes.

Got a thing for being not human? Feel the need to let your inner pony run free? This video is a very good place to start if you feel a yearning to let loose your inner pony. Just like with most fetishes, there is a lot more to this one than meets the eye. Are you completely new to the world of Pony play, but want to jump in with all four hooves? It will help if you develop a pony persona. Do you see yourself as a cart pony or more of a show pony?  
Similar to Pony play, and yet very different, is Pet play. Pet play, as the name implies, is a type of BDSM role play where an individual dresses up and takes on the personality traits of a pet, usually a dog or a cat but other animals are possible. Just as when a person adopts a dog or a cat from a shelter,  it is up to the Dominant/Owner to be in charge and take care of the submissive pet. This creates a very intense power exchange and can be a way of strengthening the level of trust and affection between the Dominant and the submissive. Minx Grrl gives some great answers to common questions about pet play in her video Intro to Animal Play.

One of the best things about being kinky and a fetishist, in my opinion, is that there is always something new to explore. No matter what you are interested in, there is a fetish out there for you. So, go out and explore Kinky Town with an open mind and heart: you just might find something that you didn't realize was missing from your life.
A phonesex consultant/operator and story teller, Goddess Reba is a kinky down home Midwestern gal at heart. With a firm belief that sexuality is something to be celebrated and enjoyed, Goddess Reba loves to explore all types of fantasies through erotica and by lending an understanding ear to the clients over the phone.