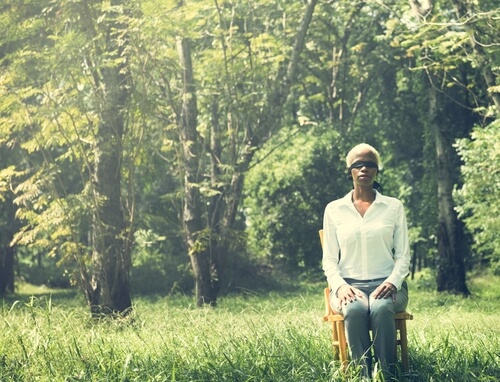 Many of us focus on the kinky fun things we get to do in the bedroom. However, many submissives desire to extend a power exchange or D/s/M/s relationship beyond just the times we are having sex or enjoying a scene with our partner(s). Extending the submissive role beyond the bedroom can be fun, satisfying, and in some cases, a type of foreplay.

So how do you extend the power exchange dynamic beyond a sexual encounter? How do you keep it to more than just treating someone like you would your hire from Merry Maids? How do you figure out how to do service without tipping of the vanillas in your world? Here are a few tips.

Incorporate Rituals (aka Protocols)

Much of the power exchange dynamic is about a submissive giving over power or control around an aspect of their lives. You can use this to extend power exchange and service beyond the bedroom. Begin by talking about the small things we do every day to move through the world. We wake up, eat breakfast, shower, and dress. We take care of chores, go to work (sometimes), eat, read, enjoy social media, and talk or text people. All of these things can be harnessed to expand submission beyond the bedroom.

Asking a submissive to incorporate small tasks or ask permission before they do something are two easy ways to extend submissive behavior into daily life. For example, we all have to dress before leaving the house. A submissive might be directed to get the dominant's approval of a wardrobe choice or something smaller like direction on which undergarments to wear. Giving over the power to choose clothing, even if it's a single piece (e.g., underwear, bra), is a daily reminder of the submissive's connection to a dominant.

To make a task like this successful and workable for most people requires ritualizing it. The last thing most submissives want to deal with is to have to frantically text a dominant at 6 AM about what underwear they are allowed to wear as they are running late for work. Setting up the ritual, such as being directed the night before as to which garments to wear, makes letting go of the power to choose clothing easier for the submissive. Alternatively, a dominant might choose to lay out the order or panties to wear on Sunday and expect their submissive to keep to the instructions.

Other types of ritualized behavior might include requiring a submissive to send a sexy photo every day, send a good morning or good night text, or rub the dominant's feet after work.

The great thing about incorporating small rituals such as those above is it provides a daily connection point between the submissive and the dominant. They are small daily reminders to both the dominant and submissive that they are in a power exchange relationship. Additionally, these small rituals provide structure to a relationship, something which can add a feeling of stability for many people.

Hiding in Plain Site

The great thing about so much submissive behavior is that vanilla folks read it as being respectful or polite. This means people can practice power exchange in plain sight and not tip off unsuspecting vanilla folks.

Many D/s or M/s couples incorporate behaviors into daily life which can be carried out subtly in public. Like incorporating rituals, this requires thinking about how you as a couple move through the public sphere.

One common behavior request is that the submissive walk either a step or two behind the dominant or a step or two in front. This will depend on the couple. Most people traditionally think of asking the submissive to walk a set or two behind the dominant and to the right or left side. However, as many of the couples I know age and one partner becomes disabled, asking a submissive to walk ahead so that they might open doors, ask individuals to move so a wheelchair might pass, or pull out a chair for a dominant walking with a cane becomes a common protocol.

Some couples initiate other forms of public protocols such as the submissive always ordering at a coffee shop and bringing the correct coffee order to the dominant at a table. Others may decide that the dominant orders the meal for the submissive while eating out at a restaurant. One of my favorite M/s couples had the submissive keep the condensation off of the dominant's drink glasses while at a restaurant. All of these small forms of service and submission connect a couple and most vanilla folks will never suspect it to be anything more than respectful, caring behavior.

Each of these rituals and small tasks is a short reminder to the couple of the power exchange relationship. It is these small behaviors which helps expand the depth of submission and dominance in a couple.

Expanding Service

Service comes in many forms. Most kinky folks begin with service in the bedroom. This can easily expand into other areas of life. Tasks which the dominant dislikes or tasks which need to be done regularly make excellent options for developing service behaviors. Assigning daily household chores to a submissive is an easy way to expand service. For example, having a standing rule that the submissive does the dishes after dinner every night, makes an evening cup of tea for the dominant, or prepares the dominant's work clothing for the next day are small tasks which must be done. Asking a submissive to take care of these tasks can be a way of expanding service and submission beyond the bedroom.

You can add a bit of kink to services outside the bedroom. For example, I prepare my partner's work clothing by doing the laundry and ironing his shirts on Sunday. While I iron his shirts, I wear nothing but an apron and butt plug. This takes service outside the bedroom (ironing) and then connects to something sexual. Adding things like wearing nipple clamps, clothespins on testicles, a butt plug or chastity device while completing chores is a great, sexy way to extend service.

One very ritualized clothing preparation service in the leather community is boot blacking and leather care. Because many of our clothes associated with scenes and going to kink events are leather, learning how to properly care for a partner's leather clothing can be an important way to provide service. This is a type of service with lots of options for making things sexy!

Considerations for Expanding Service

Expanding service beyond the bedroom requires that a dominant be thoughtful about the submissive's needs. For example, if the dominant is choosing the submissive's clothing, the dominant must take into consideration the weather, what the submissive will be doing, and the submissive's health. If a dominant is choosing an outfit for a submissive to wear out to a party on an evening, making sure a coat is included if it will be cold and that the submissive has appropriate attire for the venue is important.

Many of these rituals or protocols for expanding service seem great in theory but may need to be adjusted for various reasons. Illness (physical or mental) may make following these protocols and rituals difficult or impossible for a submissive for a period of time. If the submissive breaks their arm and they are expected to do the dishes after dinner, the dominant will need to adjust the protocol while the submissive heals.

Submissives need to keep in mind that some service isn't always pleasurable. It is always a way to show submission to your dominant. For example, if you are supposed to walk the dog every night after dinner as a form of service, there will be plenty of nights when the weather is less than appealing for a stroll. However, if this is an agreed upon service, whining about your task is a non-starter for most dominants and shows disrespect.

Dominants may need a break from some of these rituals or protocols as well. Like submissives, dominants get ill (physically and mentally). If they have to make daily decisions about a submissive's wardrobe or dictate what the submissive eats for dinner, there are times where this may be too much work for a dominant. Occasionally agreed upon services become boring or are no longer needed. For example, if your protocol was to have the submissive have a cocktail ready when you arrive at their home and the dominant decides to stop drinking, the ritual will need to change.

There is nothing wrong or inherently weak in deciding to change protocols and rituals.

The Bottom Line

Expanding service can help keep a power exchange connection between a couple even when they cannot be together. It can add to the excitement of an encounter and can sometimes deepen the relationship. As with any power exchange in a relationship, it should be negotiated and agreed to prior to becoming a part of the power exchange relationship.
Auntie Vice (aka Rebecca Blanton) is a freelance writer, blogger and podcaster. She has been living and loving as a submissive for more than 30 years. Her work now focuses on writing and teaching about kink.