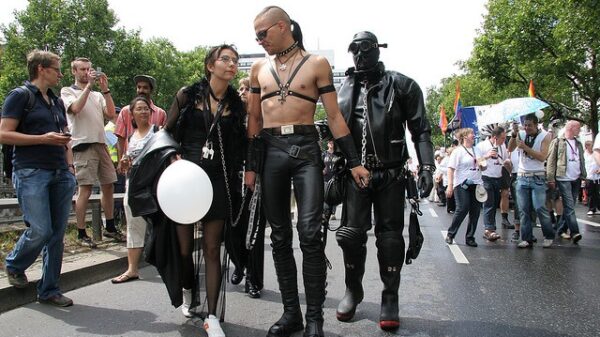 It's easy to think of the sexy ways that you can do power exchange within a scene. Enjoying that kind of play in the bedroom in the context of "Fuck me harder, sir!" and "Bow to your mistress, slave!" is so common that it's almost a cliché.
What happens when the power exchange moves beyond the bedroom? Is it possible, or ethical, to extend that kind of relationship outside into the rest of the world?
There are definite concerns about consent when dominant and submissive behavior happens where other people can see it. It can change not only the way that other people see you, but also the way you see yourself in relation to them. Mollena Williams talks about one of the most intense kinds of role-play, using racial stereotypes to explore the darker sides of the psyche. In a controlled environment this is the kind of play that needs to be done with care; in public, it almost certainly shouldn't be blatantly expressed, because it non-consensually brings other people into your scene. It can have a real effect on the way people look at you and your partner because they won't necessarily understand the context of negotiation that has been done before.
Likewise, playing with hypnotic triggers takes a lot of pre-negotiation if you're planning on using them in everyday life. Lee Harrington has an entire clip on things to consider before you begin, such as how the trigger might affect you in different environments such as work, home, or school. You also need to be careful to set in place who can trigger it. For example, a woman was given the hypnotic trigger to freeze into a "doll" state whenever she heard her lover say "Stop!" When he unthinkingly said that as she was crossing the street, it made them realize how dangerous that command could be in the wrong context.
Once you work out those kinds of details, though, it's entirely possible to enjoy the sexiness of D/s in non-sexual contexts. One very common method is to set up a system of domestic discipline within the relationship, so that whenever the submissive partner does something in a way that displeases their dominant partner they suffer some form of corporal punishment. Yes, this may seem sexual – but it may simply be a consequence. Many people who have played in this way simply consider it as a way to both focus their attention to their work and also to reinforce the power hierarchy even when they are not fucking.
In a world where polyamory is a common relationship choice partners also have to figure out how a power exchange relationship also affects other partners. Resa (formerly Ava) Amnesia talks about this in her talk on the "Spectrum of Submission." She talks about what it's like having a wide variety of partners – for example, you can be submissive to one and dominant towards another and then enjoy vanilla sex with another. The only rules about these kinds of relationships are the ones you and your partners create and negotiate. The important part, Reza explains, is that you never forget your own personal responsibility towards your own needs first and towards your partners second. It's kind of like in an airplane when the oxygen masks come down; you need to secure your own life-support before turning to help others.
Helping others is one of the common ways power exchange can happen over distance as well. Nicole and Miranda are "Stormmy's girls", in service to their Master (who teaches flogging, among other subjects). They talk about the ways they do long-distance service for him, providing technical support and personal services much like a personal assistant. The support goes both ways, of course, and the dominant side can also help remind the submissive partner of duties or personal development goals such as exercise. In some cases the distance can actually help a relationship grow stronger because you explore things beyond the realm of sexuality.
Another important aspect of negotiating when you're working to take your power exchange beyond the bedroom is to leave room for both partners to change. Cecilia Tan talks about how roles can change over time in a 24/7 D/s relationship. Is it possible to be Mistress to your slave, wife to your husband, and mother to your children all within the span of a day? The answer is yes, if you take the time to clearly delineate the responsibilities and expectations of each role.
It might be nice if there was a simple and clear rulebook for "How to Negotiate a D/s Relationship", but in reality there are only guidelines and suggestions and instructors like the ones on Kink Academy trying to give you the benefit of their experience. At the same time the process of negotiating carefully a more holistic D/s relationship in and out of the bedroom can give you the foundation for a beautiful, hot, and rewarding relationship for years to come.
Save