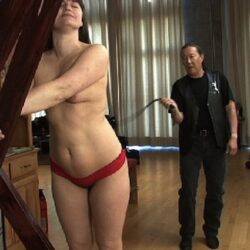 "Who's the DM?" It's a question that is heard in kink playspaces a lot, and I confess when I first heard it my thought was Somebody's playing Dungeons & Dragons? Instead I learned that the "DM" (sometimes called by other names like "event monitor" depending on the venue) was a person whose job it was to ensure that the play space rules were adhered to by the kinksters in the room, as well as overwatching everyone in the room to make sure someone didn't get too carried away, and try that high-impact single-point fire blood draw neck suspension consensual non-consent scene.
(And now that I've written what I consider to be an at-best highly questionable scene, of course there's somebody reading this saying "well, yeah, that's just Tuesday".)
And that's where one of the biggest difficulties around Dungeon Monitors lies.
Fight or Foreplay?
It used to be relatively easy. In public spaces people tended to know each other, tended to play in similar ways, and the few vanguards who pushed the edges of kink were also well-known, and the DMs could shrug off what looked like a possible danger because they had confidence in the abilities of the players to both establish consent and be aware of the risks they were taking.
As the community grew the number of people grew as well. The types of play grew. And it became harder for DMs to know people as personally, or to be familiar with the wide variety of kinks that were in the dungeon. Is that a safe hogtie? What happens if that single tail draws blood? Those people are shouting really mean and humiliating things at each other; is it a fight, or foreplay?
The job of being a dungeon monitor got more complicated, and in some areas that meant they had more training. In other areas, people self-selected as being "knowledgeable" – which is all well and good, unless one persons knowledge doesn't match another's. There are places where people line up to get choked out during a scene, for example, and other places where any kind of breath or blood choke play is absolutely banned.
Who is right? The answer is both simple and complicated: it depends on the play space.
Let's Make It Hot
One solution that large events like ROPECRAFT have tried is to think of their DMs more as a "Dungeon Concierge." With people coming from all over the world to explore all the varieties of bondage, it would be impossible to have them both trained in all aspects of safety or "enforce" rules with hundreds of people in the dungeon. Worse, if it's the DMs job to "enforce", then it sends a message to the attendees: if the DM isn't saying it's wrong, it must be alright.
That's dangerous. On the other hand, if attendees are told that it is their job to keep the dungeon space safer by observing the guidelines, and that the DMs are there to help them do that, it becomes a cooperative relationship designed for one thing: let's make a really sexy and kinky dungeon together.
There are three simple rules that can help you have a better relationship with the DMs in just about any space:
Treat them like people. Say hi. Maybe say thank you for the volunteers who are watching everyone else have fun. They may be tired, they may be missing out on their own play, and they're doing that so that you can get your kink on in a fun space. Let them know that you appreciate that.
Let them know what you're going to do. This applies especially if you're doing some kind of high-risk play like consensual nonconsent, but even if you're just going to be doing something simple you can ask them something like "So, what's the best cross here? Any suggestions for where I could do my fire play scene? It establishes that you value their judgement, and can listen to them.
Listen to them. DMs have a hard job. That means that they make mistakes, up to and including interrupting scenes that they think are unsafe. Even when they are wrong, the dungeon is not the place to explain that. Instead, ask to talk to the head DM or someone on the staff somewhere outside, and politely explain why you feel there was an error. Otherwise you are disrupting other people in the dungeon – which is the thing that you were mad about in the first place, right?
If you're looking to train your dungeon monitors to a higher standard, one possibility is to contact the Kink Academy educators Stefanos and Shay, who teach a fantastic "when things go wrong" class. Or just get them each a membership to this site and expand their knowledge base!
And if you are or have been a DM, from all of us here at Kink Academy: Thank you for your help in making the world a kinkier place!