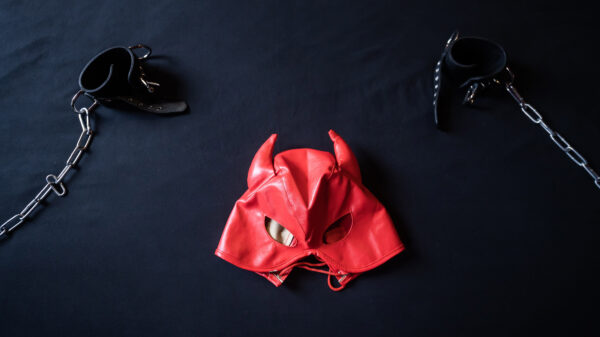 No different than the creepy haunts that fill our neighborhoods on Fright Night, kink and BDSM can be intimidating and even downright scary if you find yourself with a strange curiosity, stumbling down this dark and windy road where people dressed in leather corsets and stiletto boots whip their submissives for sadistic pleasure while gagged moans fill the air with an adrenaline-driven melody of agony and ecstasy…
Yet underneath that frightening facade, truth be told the world of kink is only as scary as each individual kinkster wants it to be. For every naughty ghoul who craves physical pain and unyielding domination, there's another who yearns for the sensual touch of silk and lace with a playful tease to taunt the senses and add a bit of pumpkin spice to their usual romantic bedtime routine!
So here in this month filled with spooky tricks and plenty of sweet treats, too, I wanted to take a few minutes to dispel some of the biggest misconceptions about kink and help shoo away those lingering doubts to give newcomers a fair shot at exploring their kinky desires without those negative thoughts trying to scare them away…
"I'm Not Into Pain!"
There are so many aspects of kink that have nothing to do with pain play – don't even worry about it if spanking isn't your idea of a good time and nipple play sounds like being forced to walk through a graveyard at midnight under a full moon!
Maybe experimenting with blindfolds and sensation play are more your speed, or some roleplaying, or even tickling, believe it or not. So many kinky stereotypes depict it to be all whips and handcuffs and leather, which are very fun when shared between likeminded, consenting adults, but just as kink can be dominant and controlling, it can also be silly and romantic and relaxing, too.
That said, the saying "Don't knock it 'til you've tried it…" exists for a reason, so don't be afraid to occasionally try things outside of your comfort zone – the first naughty folks who tried putting clothespins on their nipples probably had no idea what they were getting themselves into, but sometimes pain can be surprisingly fun when you least expect it!
Just remember, BDSM is all about consent, so no need to fear – you never have to try anything that you don't want to…
"Nobody Else Would Be Into This Weird Thing That I Like…"
Granted, it may have been easier to believe this a few decades ago when you had to venture out into the real world to find and meet fellow kinksters, but this is 2022! The Internet connects people from all walks of life and perverted corners of the globe, so while you might've been hard pressed to find someone else in your own hometown who was into being dressed up like a sissy or having their dick locked up in a cage while they're being teased and tormented mercilessly, these days there are plenty of people online that obsess about that very same dirty thing that you've been fantasizing about…
Seriously – some of them even throw parties, so if there's one thing you can rest assured about your kink, it's that you're most definitely not alone in it!
"It's Just All So Overwhelming!"
True, there are probably more kinks to choose from than treats on Halloween night, and some of them can be more of an emotional rollercoaster than approaching the neighbor's house when they're almost out of king size candy bars…
…but instead of looking at the hundreds of different kinks and thousands of vibrating toys and seemingly countless ways to restrain and tease and torture someone as a daunting obstacle you can never hope to pass, look at them as endless opportunities to explore those varieties until you find just the right flavors that really tick the boxes for your own unique tastes as a budding, new kinky enthusiast!
Just because your local adult store has three aisles filled with different sizes of rubber cocks doesn't mean that you have to try them all at once! Take your time and think about the things that turn you on as you wander at your own pace, and if you find something that intrigues you a little, or a lot – run with that.
"I Don't Know What I'm Supposed to Do…"
And last but not least, the good news is – you're in the right place because Kink Academy is the home to a lot of kinky educators who've put together classes on everything from anal to wax play … and no doubt if there were kinks that started with X, Y, or Z, they'd be happy to teach you about those, too!
Just as you wouldn't expect to build an eight foot tall, walking abomination with bolts coming out of its neck after your first few late nights in the laboratory, you probably won't go from innocent librarian to whip-wielding dominatrix overnight, but in time as you read books and blog posts and watch lessons from people you can trust, you'll build up your own little repertoire of toys you like and words that sound sexy coming from your own lips and even positions that you enjoy exploiting your own helpless submissives in…
Now go forth, not in fear, but in excitement as you stare down these kinky scares – never again will they stand in the way of the delicious, albeit devious treats that you deserve!!!
KinkyWriter specializes in BDSM and fetish erotica, writing stories about fantasies of female domination and bondage, chastity, cuckolding, and countless other kinks! You can find their latest erotic stories at KinkyWriter.com and Amazon.com.