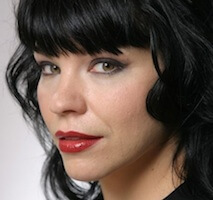 Sex Educator, Sexual Assault & Violence Intervention Counselor
Ducky is the author of Sex With The Lights On: 200 Illuminating Sex Questions Answered. She has spent the last two decades working in the field of sexuality. She is a certified emergency room Sexual Assault and Violence Intervention Counselor and has trained with Planned Parenthood in comprehensive STD prevention and comprehensive & medically accurate sex education. Ducky tours internationally, performing on campuses, medical schools, bachelorette parties, homeless youth drop-in centers, book clubs, church groups, sex shops and anywhere else she can gather a crowd. She has appeared on HBOs Real Sex, The Morning Show, MTV, NPR, The Howard Stern Show, and Playboy TV… to name a few Ducky's unabashed openness about her life developed into a successful career as a journalist and advice columnist. Over the years she has used her writing and sense of humor to pursue her deep lust for knowledge and understanding in regard to sexuality, class, race, gender, culture, compassion and human rights. She was also awarded a fellowship with the New York Foundation for the Arts in the category of non-fiction literature.
Specialties
Pleasure based sexuality for all genders, orientations, singles, couples and experience levels.
Experience
AUTHOR: -Sex with the Lights On: 200 Illuminating Sex Questions Answered -New York Foundation for the Arts, Fellowship Award for Non-Fiction Literature, 2003 SPEAKER: Ducky is a frequent guest lecturer and performer for events that focus on welcoming new students, safer sex practice, STD education & awareness, health & wellness resources on campus, LGBT rights, sexual assault prevention, intimate partner violence awareness, alcohol & substance abuse awareness, and boosting self-esteem. Humor is a major part of all of her presentations, but educational learning outcomes include: -Understanding pleasure anatomy and response. -Acknowledging that it's okay to say no to sex at any time before or during intimacy. -Identifying and applying (if active) safe sex practices. -Establish boundaries and demonstrating respect between roommates in regards to privacy and sexual behavior. -Applying proactive risk reduction techniques against sexual assault and identifying resources available to students should a sexual assault occur. A partial list of campuses where Ducky has appeared includes: Antioch College, Barnard College, Columbia University, Harvard University, Mount Sinai School of Medicine, New York Institutes of Technology, New York University, Pace University, San Diego State University, Sarah Lawrence College, State University of New York, University of California, University of Michigan, Vassar College, Wesleyan University, and Western Washington University. NON-PROFIT WORK: Since 2005 Ducky has been a Sexual Assault & Violence Intervention Counselor with the Mount Sinai Hospital Sexual Assault & Violence Intervention (SAVI) Program. Certified by the New York Department of Health, Ducky is a volunteer emergency room patient advocate for adult and pediatric sexual assault and domestic violence survivors. She is part of the annual training team for new volunteers. She is also a member of the SAVI Speakers Bureau, trained to speak on behalf of SAVI and facilitate outreach and awareness-raising workshops for schools, universities, community groups and the police department. She has also facilitated Sexual Health and Wellness workshops for fellow SAVI advocates. Since 2007 she has been an annual guest sex educator for Safe Horizons Homeless Youth Project. The youth set the learning agenda; Ducky facilitates and provides materials such as books and handouts for the meetings. She has also volunteered her services to The GLBT Center, Fitness Express Women's Health & Wellness Fair, Identity Center, The Annual Homelessness Marathon, Ali Forney Center, and university anti-violence against women V-Day programs. COMMERCIAL WORK: 1996 –present proprietor of Ducky DooLittle LLC. 2008 – 2009 President of Love U a national company providing healthy for the body sexuality, health and wellness products via direct sales and home parties. From 2007 to 2009, Ducky has been a contracted host & expert for Sirius & XM Satellite Radio. Since 2001, Ducky has been presenting at annual corporate conferences, training staff and sales reps and teaching workshops for the customer bases for multiple retailers of adult products. She specifically works to inspire companies and their workers to bring more health, wellness, inclusiveness and compassion into their sales mission. A partial list of companies Ducky works with (currently or in the past) include Art of Loving (Vancouver), Athena's Home Novelties (National), Babeland (National), Come As You Are (Toronto), Early to Bed (Chicago), Excitement Video (PA), For Your Pleasure (national), Good Vibrations (SF), Grand Opening (LA), Museum of Sex (NY), Smitten Kitten (Minneapolis), and The Tool Shed (Milwaukee). From 2007 to 2009, Ducky was the Education Coordinator and a Sex Educator for For Your Pleasure, Inc. She was responsible for training 3500 sex educators and sales reps on issues of sexuality, pleasure anatomy, gender, orientation and community service. Ducky was responsible for spearheading new media learning avenues such as blogging, forums, chat sessions, and online video. From 2001 to 2004, Ducky worked as a Sex Educator, a part of the managerial team and finally she was the Education Coordinator and Lead Workshop Facilitator for Babeland. Babeland is a national, feminist women-owned sexuality boutique. There Ducky was responsible for bring Babeland's community education program from a fledging project up to the highly successful program it is today. Beyond training staff members of Babeland, she hired outside teachers, trained educators within the company, created curriculum outlines, scheduled & facilitated events, and taught workshops for the public. PRESS: Ducky's work has been the subject of features, interviews and articles internationally. A partial list of Ducky's media appearances includes: -Television: ABC News, CNBC, HBO, Comedy Central, The Morning Show, MTV, Playboy TV... -Radio: Howard Stern Show, National Public Radio (NPR)... -Magazines: Bust Magazine, Glamour Magazine, Index Magazine, Marie Claire Magazine, Redbook Magazine, Time Out New York... -Weeklies & News Papers: Fort Worth Weekly, LA Weekly, Portland Mercury, Reuters International News Wire, San Francisco Bay Guardian, The Village Voice... EDUCATION: -The City College of New York, General Educational Development, 2008 -Mount Sinai School of Medicine SAVI Program, Sexual Assault & Violence Intervention Counselor Certification, 2005 -Planned Parenthood of New York, Medically-Accurate Comprehensive Sex Education, 2004 -Planned Parenthood of New York, An STD/HIV and Contraception Update, 2004 -Planned Parenthood of New York, The Complete Training of Trainers, 2003 -New York University, Sexually Speaking, Dr. Ruth Westheimer, 2003