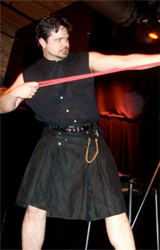 Ninja Sex Poodle & Ronin of Love
Business/Group
The Ropecast, a World-Renowned Free Podcast about Kinky Sex Maui Kink, the source of high-quality kinky gear from paddles to cuffs to canes and of course: Rope!
Location
The Rope Bondage Capitol of the World, Madison, WI
Graydancer, Ninja Sex Poodle & Ronin of Love, comes from the venerable rope bondage tradition of Madison, WI, where he honed his craft to become the world premiere podcaster of rope bondage with "the Ropecast". He is the author of three novels including Nawashi (which climbed to #1 on the Podiobooks.com charts) as well as numerous short stories and essays. Graydancer's writing has been published in several anthologies edited by Rachel Kramer Bussel, Secret Magazine, Power Exchange Magazine, and most recently "Ropes, Bondage & Power" (edited by Lee Harrington).
A veteran of the stage, Graydancer serves as a feature performer and M.C. for Madison's hottest burlesque company, Foxy Veronica's Peach Pies, as well as regularly appearing at the Miramar Theatre as part of "Erotic Milwaukee." He has also been featured as a reader of several fiction podcasts including Nobilis Erotica and Escape Pod. You can browse the images in the Graydancer Style gallery to see some of his work, and feel free to use them on your site provided you A) only use them to reference Graydancer's work and B) Let him know where the image is being used.
Drawing upon a background in performance video and technology, Graydancer's company satorimedia also professionally rigs, photographs, shoots, edits, and works as a web designer for several clients ranging from Kink.com to Costume Cuties. You can also hear Graydancer as a guest on various other popular podcasts such as Polyamory Weekly and Dart's Domain. Currently he plies his trade as an itinerant Rope Artist, Kink Educator and Sex-Positive Activist, smiting the evil of sloppy ends wherever they may lie.
Specialties
Connection: creating it, maintaining it, and managing it through extreme sensations.
Rough Body Play
Military Style Bondage
Making Out
Language & Kink
Dominant/Submissive & Master/slave Relationships
Polyamory
Rope Bondage
Fetish Performance
Cigar Play
Erotic Writing
Experience
Leather Leadership Conference (XI, XIII, XIV)
Shibaricon (Chicago, IL)
Folsom Fair (San Francisco, CA)
SPANKfest (Black River Falls, WI)
the Leather Archives & Museum (Chicago, IL)
Austin Ropecraft Symposium (Austin, TX)
Kinky Kollege (Chicago, IL)
Sinsations in Leather (Chicago, IL)
Blogworld Expo (Las Vegas, NV)
GRUE (Madison, WI, Lansing, MI, St. Louis, MO, Minneapolis, MN, Toronto, CA)
Satyricon and Sabbat de Sade (Madison, WI)
Central Ohio Perversion Excursion (Columbus, OH)
Ohio Leather Fest (Columbus, OH)
Beyond Leather (Ft Lauderdale, FL)
TES Fest (NJ)
Rapture NYC
Twisted Factory (Oakland, CA)
Hogtied.com (San Francisco, CA)
Minnesota KINKY Book Club
A Woman's Touch (Madison and Milwaukee, WI)
New Orleans Leather Association
Kinko De Mayo (Cleveland, OH)
Seattle Erotic Art Festival
Beat Me in St. Louis
Chicago Rope Symposium
Galleria Domain II (Chicago)
Erotic Milwaukee
the Crucible's Rope Academy (Washington D.C.)
Black Phoenix Dungeon (Philadelphia PA)
Dark Odyssey (Washington D.C.)
The Baltimore Erotic Art Festival
Madtown Kinkfest (Madison WI)
Nuit Blanche (Toronto, CA)
Club Expresión (Mexico City)