Did you miss the Thanksgiving weekend sale? Kicking yourself because you now know someone who could really use some Kink Academy in their lives?
Announcing a "Blue Moon" Sale! (aka two sales in one month). It will be our last sale for awhile, so you don't want to miss this one!
We're doing a sale for long-term memberships one last time:
$75 for a full year

$50 for 6 months
But it's only going to be around from December 26 – January 2nd.
Need more reasons? Read on!
More content
than ever before.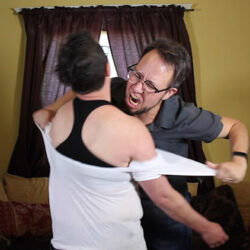 There are already over 2000 videos on a huge range of kink and sexuality on our site. We have worked with respected members of the kink, leather, gender, and sexuality communities as well as credentialed professionals such as therapists, doctors, and professors to provide the most comprehensive kink resource on the web.
In 2019, we made it even better. The Kink Academy team traveled all over the U.S. bringing in even more varied educators and voices. Now you have access to brand-new series such as: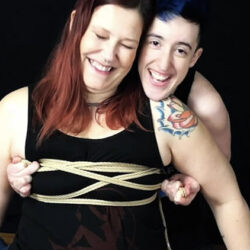 We also got back in touch with some of our favorite instructors from past series, and asked them to share with us the things they've been passionate about in 2019. That's why now you have Shay teaching an entirely new self-suspension series, Graydancer and Naiia explaining how they enjoy Creative Protocols, and Rain DeGrey talking about Foot Fetish. One of the most iconic and respected educators in the world, Lee Harrington, shared his love of kink with no less than four new series: Switching Strategies, Genderqueer Bondage, Clothing Bondage, and Role Play!
So Much Kink Education Accessible Anywhere, Anytime!
As always, this is "evergreen" content. There's no expiration date on the clips. Once they are up online, members of the Kink Academy can access them on any kind of device that has access to the internet — which these days is pretty much all the time.
Want a refresher on a particular kink before a hot date? We've got you covered. Looking for a new kind of adventure for your own sexuality? Browse the huge archive of clips for explicit and extensive instruction. Wanting to be current and up-to-date on gender theory, consent practices, or simply the etiquette of kink? Kink Academy has all of that and more.
We are happy that we can bring the kind of kink education you get at events along with some that you won't find anywhere else to everyone. It's not always easy to travel to conferences and not everyone has a local kink munch or play space to learn and explore their desires.
Our site makes that possible. And now it's easier than ever to have access for half or all of a year. During this "Thank-kinky" sale you can support an independent kink business as well as all of the instructors we pay to teach by getting a special-price membership:
$75 for a full year
$50 for 6 months

Are you already a member? This will extend your membership, or you can simply pick out that special friend, lover, or even just an acquaintance who you know would benefit from the kind of explicit and comprehensive kink education we provide on the Kink Academy! It's a perfect end-of-year holiday gift, whether for yourself or your sexy friends. Don't miss this "blue moon" opportunity!