Thanks for Your Support
Become a member or log in to watch this video.
---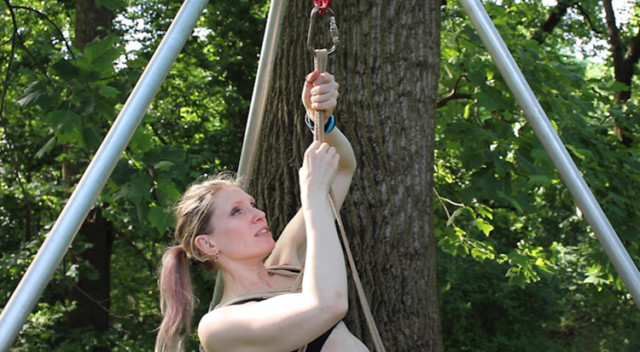 All uplines are NOT created equal. What seems like a straightforward process – just connecting your body harnesses to the hard point – can turn into a "complete mess" pretty easily. In this clip Shay goes over several of the mistakes that even experienced riggers might make, such as too many loops through the carabiner, putting the hitch too close to the bottom, and more. Don't worry – in the next clip, Shay will show how to get past all of these. But watch it, because it's worth it to know why self-suspension uplines are not automatically the same as two-person suspension! You should also read this article, recommended by Shay, before practicing your own uplines.
Rope bondage can be extremely dangerous. Self-suspension is an aerial activity with many inherent risks. Never tie alone or without appropriate instruction. Consult your doctor before attempting potentially strenuous activities like self-suspension.
This video is closed-captioned for the hearing impaired.
Self Suspension with Shay
Self Suspension: Uplines – What Not to Do