Thanks for Your Support
Become a member or log in to watch this video.
---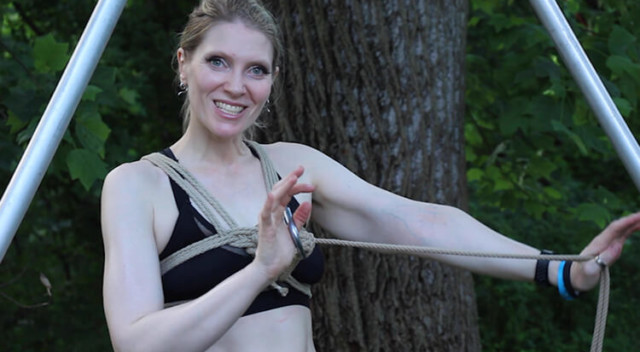 In this clip Shay shows her preferred method for attaching the upline to the chest harness. It involves three loops, a carabiner, and a nifty little locking twist of rope. Shay demonstrates the technique from several angles, and then explains a variation especially useful for face-up self-suspension. For other upline techniques, including one that doesn't use a carabiner, check out this clip by Topologist. Remember, Shay only recommends this hanger for synthetic rope (such as POSH, which she uses in the clip).
Rope bondage can be extremely dangerous. Self-suspension is an aerial activity with many inherent risks. Never tie alone or without appropriate instruction. Consult your doctor before attempting potentially strenuous activities like self-suspension.
This video is closed-captioned for the hearing impaired.
Self Suspension with Shay
Self Suspension: Hanger for Chest Harness