Thanks for Your Support
Become a member or log in to watch this video.
---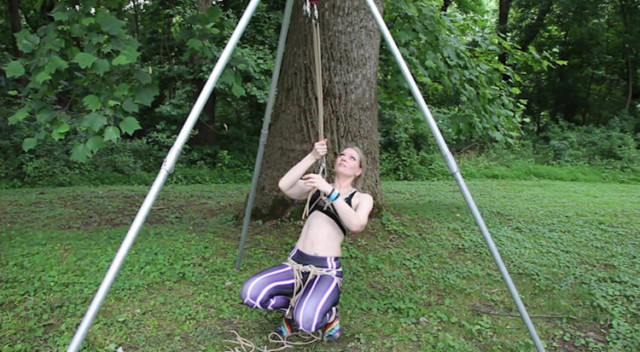 As fun as it is, at some point you have to let gravity win and come down from your self suspension. Shay shows how to do this in a way that mitigates some of the risk, including the fact that even when your feet are on the ground, your body is still reacting to the experience. She emphasizes again how body awareness is needed to "keep a little gas in the tank" and untie the uplines that you've tied so well. At the end she talks about the lovely tendency of the human body to become more sensitive after an intense experience like suspension, and gives some ideas for taking advantage of this phenomenon along with the aftercare.
Rope bondage can be extremely dangerous. Self-suspension is an aerial activity with many inherent risks. Never tie alone or without appropriate instruction. Consult your doctor before attempting potentially strenuous activities like self-suspension.
This video is closed-captioned for the hearing impaired.
Self Suspension with Shay
Self Suspension: Coming Down