Thanks for Your Support
Become a member or log in to watch this video.
---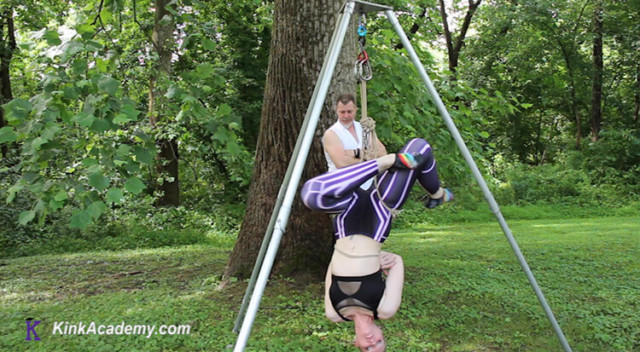 Shay starts out this extensive series on self-suspension by emphasizing the importance of having a spotter during your experience. The spotter can be a friend, a play partner, or whatever your personal risk profile happens to fall into. Shay's own partner, Stefanos, gives a quick demonstration of the range of activities that the spotter can engage in during a self-suspension scene, from benign ambivalence to helpful advice to active play. Shay emphasizes that it's up to you to decide what you need your spotter to do, but that it's important that you have one.
Before beginning this series on self-suspension, you may also benefit from watching Shay's series here on Kink Academy about Partnered Suspension (particularly the first nine clips in the series).
Rope bondage can be extremely dangerous. Self-suspension is an aerial activity with many inherent risks. Never tie alone or without appropriate instruction. Consult your doctor before attempting potentially strenuous activities like self-suspension.
This video is closed-captioned for the hearing impaired.
Self Suspension with Shay
Self Suspension: Spotters